Time's winding down to Thanksgiving, and we can just imagine how stressful this time of year has been for all of you quilters! It can be hard to find time to work on decorative patterns and plan your big meal at the same time. The editors at FaveQuilts can help take some of that stress away with some of our favorite quilted table runner patterns, table toppers, and other quilted decorations that you'll be able to complete in no time. We've also found some popular slow cooker recipes from our friends at AllFreeSlowCookerRecipes that you can start on while you work.
Table Decorations with Thanksgiving Themes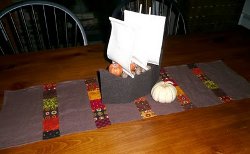 It's the reason for the season, so if you don't want to skimp on the holiday aspect of your home decor, use some classic seasonal colors to complement your fabric, like in the Quick Patchwork Thanksgiving Table Runner, or include a popular holiday image that will look even more impressive when quilted.
Thanksgiving themed patterns to try:
Fall Inspired Quilt Patterns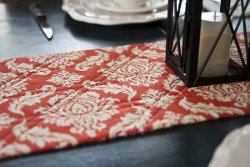 Thanksgiving's only one day of the year, and if you're trying to save fabric, you may find yourself in a bit of a predicament. Thankfully, there are patterns like the Simple Autumn Table Runner that are appropriate for special occasions, as well as everyday decor that you can have in your home for the rest of the fall season.
More fall patterns to try:
More Quilted Table Runner Patterns and Table Toppers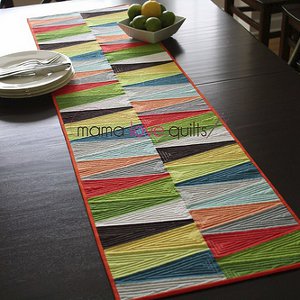 Just because this is a special holiday doesn't mean you can't still bring your designer style to the table. You don't necessarily need to incorporate fall colors into your Thanksgiving table decor to make it special; Just look at how amazing and classy the Modern Dresden Quilt Table Runner looks. A timeless look or a modern sensation can just as easily complement your delicious meal.
More table runners and toppers:
BONUS! Thanksgiving Slow Cooker Recipes
There's no better way to cook for a quilter than with a slow cooker. You can prepare a meal in the morning, let it sit during the day while you're quilting, and have a delicious meal and some great progress completed on your latest pattern by nightfall. Finally get the rest and relaxation you deserve this holiday season instead of standing over a stove all day with the help of our friends at AllFreeSlowCookerRecipes.
Does this Easy Pumpkin Soup look delicious or what? If you like that, make sure you take a look at all of the Thanksgiving-themed recipes our sister site has to offer:
Which of your holiday decorations do you like to make yourself?