It's finally starting to get a little chilly outside, so we at AllFreeChristmasCrafts have the cold on our minds! We absolutely love snow crafts, and part of why we love them so much is because they aren't just for Christmas! Many snow crafts are great to leave up throughout the winter. After all, it's always a little sad to take down Christmas decorations after the holiday passes, so why not craft something that can stay up through March?
Snowflake Crafts
DIY snowflakes are easy and fun Christmas crafts. They're perfect for the whole family because most of us have been cutting snowflakes out of paper since we were little! Snowflake crafts can range from the truly difficult to the truly basic. This Crochet Snowflake Garland is a little more difficult than simply cutting patterns out of paper, but we have tutorials for even the most basic snowflake crafts. It's true that no two snowflakes are the same, and these craft ideas are truly unique!
Homemade Snow Globes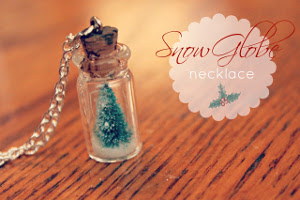 Snow globes are completely classic Christmas decorations, and they are each snow unique! You can put anything you like inside the glass jar. From the traditional evergreen trees to protected family photos to even little figurines of cartoon characters, snow globes can be perfectly tailored to any home decor. In fact, they aren't just for decorating your home! This Adorable Mini Snow Globe Necklace is a precious accessory for your next Christmas gathering! Learn how to make your own homemade snow globes with any of these fabulous tutorials.
Snowman Craft Ideas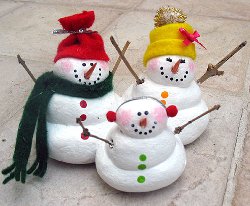 Snowmen are fun to build when the snow is perfect for packing, but what about when snow isn't on the ground yet? And if the snow is too powdery, that's no good for building snowmen, either. Keep snowmen around all winter when you make snowmen inside your home! These snowman craft ideas are great crafts for kids and for parents! Take these Salt Dough Snowmen for example. Mom can make the salt dough, and the kids can have fun sculpting the snowmen and adding faces, hats, and scarves!

When do you take down your snowy Christmas decorations?