Winter's not quite over yet, which means there's still time to celebrate part of what makes it so special for many of us; the snow! Whether you got 2 feet, 2 inches, or nothing at all, you can appreciate how important snow is to winter, which makes it the perfect source of inspiration for some late-winter crafting. That's why the editors at AllFreeChristmasCrafts have put together a brand new eBook to bring the beauty of a white Christmas into your home during any time of year. Get your copy of Winter Wonderland: How to Make 8 Snowflakes, Snow Crafts, and Snow Projects for all of the crafting fun (without the cold!).
Not only does our new eBook include ways to decorate your home with snowflakes, but also how to make a snow globe that's mess-free and recyclable, and a few adorable craft snowmen that won't melt once spring comes. There's a bead craft, a free Christmas crochet pattern, and plenty of thrifty ways to create snow craft projects on a budget. Each of the designers who provided a project have their own approach to winter crafts which makes every page in this eBook very valuable for your crafting skills.
What you'll find in this eBook: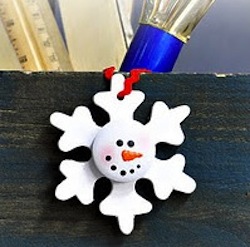 Wooden Snowman Snowflake – Now you can combine your love for craft snowman and snowflake crafts into one adorable Christmas ornament craft. Artistic crafters will appreciate the quality of this handmade Christmas ornament, and those looking for something they can make in sets will be pleased to see how inexpensive the materials are. Best of all, just look at that face. What could be cuter for a Christmas tree?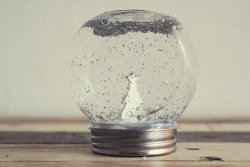 Beautiful Sparkling Snow Globe – One of our favorite things about this eBook is how creative the snow craft projects were with recyclables. You can learn how to make a snow globe that's going to stand out for its simplicity and elegance no matter where you place it using an easy jar craft tutorial. It's accessible to all ages, and hardly costs anything to put together. Keep this tutorial handy year round, because it's very easy to redesign depending on the time of year.
Download a copy of Winter Wonderland: How to Make 8 Snowflakes, Snow Crafts, and Snow Projects – it's free!
If you like this eBook, you might also enjoy: