Ok, maybe you don't want to die for these patterns, after all, in the expanse of time they haven't. AllFreeSewing has noticed that classic patterns outlive any hot trend we see. What is it about timeless patterns that always draws our attention? Just like you, many of us here at AllFreeSewing can't help but ohh and ahh over a quality vintage sewing pattern. Also like you, though, we don't all have time to spend hours thrifting for a cheap but authentic dress. Thank goodness we sew. We've gathered some vintage-inspired dress patterns to share and enjoy. Walk with us down this stylish memory lane and save some of these pretty projects to try when you have the chance.
Vintage Dress Patterns
Vintage Sheet Dress – What strikes us about this vintage dress pattern is the way it nods to more than one decade of fashion. The pattern certainly recalls Victorian fashion, but what about the length? This long dress would certainly fit the standards of the turn of the century, but don't you remember wearing radically long dresses like these in the 70's as well? A relatively easy-to-sew pattern, this tutorial will not only give you a great dress, but tips on sewing a skirt, bodice, and sleeves.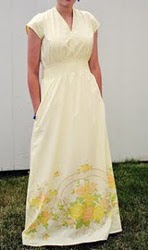 30 Minute Sheath Dress – Apart from being absolutely fabulous for its simplicity, this dress pattern is totally mod. Break out your sewing machine and whip up this retro dress in less than an hour. The latter half of the twentieth century certainly made waves in terms of fashion, and this dress proves it.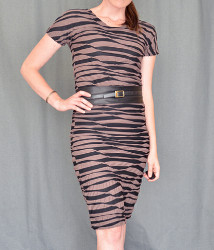 Couture Inspired Dress – Is it just us, or is there something about this Couture Inspired Dress that takes you back 60 years? This free tutorial from V&A is truly inspiring for every sewist out there. Sew up this dress in time for a celebration such as a wedding, birthday, or Saturday (you really need no excuse).
A Gathered Dress – Perhaps this vintage dress pattern should have been named, "Soda Fountain Frock", because that's exactly what comes to mind when you glance at it. Of course the nostalgic road can be slightly dangerous to tread on; after all, no decade was perfect. However, the style from this sewing pattern evokes a convincing feeling of care-free fun. Learn how to make a dress like this one and enjoy your day as if you didn't have a care in the world!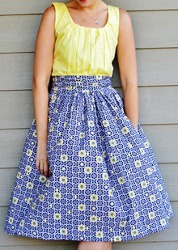 Vintage Heirloom Dress – Did you think we could resist posting a pattern for babies? Of course we couldn't. There are so many baby dress patterns out there, but we think this one is really retro. You know that this dress tutorial is irresistible. Just imagine your daughter, granddaughter, or second-cousin's best friend's kid in this darling dress. These instructions offer essential sewing tips such as creating a bodice and hemming advice. It's the perfect project to practice with because it's child-sized and adorable.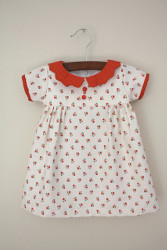 Did you like this roundup of vintage dress patterns? Find more mod projects with our 21 Retro Vintage Sewing Patterns + 14 New Patterns collection; it's one of our most popular!
What's your favorite decade in terms of style?