The results are in: Frozen is a winner! In addition to snagging the Oscars for Best Original Song and Best Animated Film, Disney's latest release has officially become the highest-grossing animated movie of all time. If you've seen this heartwarming film, you can probably guess why. It's gorgeously animated, laugh-out-loud funny, and features some of the greatest original music I've heard in years.
Kids aren't the only ones who adore the movie, either. Grown-ups are getting into the action with birthday parties and even weddings inspired by the film. The good news for those of us on a budget is that crafters the world over have been hit with Frozen fever. From DIY costumes, homemade decorations, kid-friendly snacks, and DIY party favors, crafters have rallied to give you all the tools you need to create your own Frozen-inspired party.
Playing Dress-Up: DIY Costumes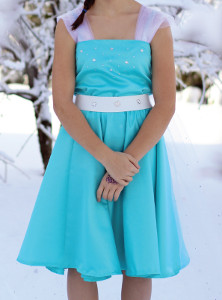 One of the most breathtaking scenes in Frozen is when Elsa trades her royal garb for a radiant dress made of ice and snowflakes. You can recreate this look with a simple sewing pattern. A circle skirt and basic bodice come together to create a sweet dress that's fit for a princess. Add more rhinestones to the bodice, and The Elsa Dress will really sparkle.
Pair this stunning dress with a free printable pattern for Elsa's crown. If you have a little prince who wants a costume of his own, there are lots of options for him, too. This DIY Kristoff costume is absolutely darling. if he'd rather pretend to be Kristoff's furry friend Sven, you can use this free printable template for antlers instead. And I can't leave out everyone's favorite snowman! Check out this tutorial for DIY Olaf shirts that the whole family can wear.
 Set the Scene: Homemade Party Decorations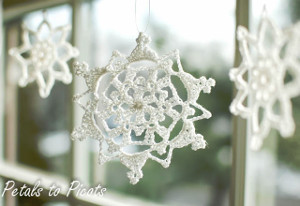 Even in the middle of spring there are ways to turn your home into a winter wonderland. These DIY decorations for your Frozen party will make your home look super cool–pun intended. The Lacy Snowflake Pattern pictured at right is an intermediate crochet pattern that looks great with a glittery finish. One of our favorite crochet projects for winter is the Snowflake Cookie. A batch of these cookies is all sweet and no sugar.
For those of us who like to use a needle and thread, there's a pretty Icicle Lights Quilting Pattern that you can whip up in a matter of hours. Hang it on your wall to create a winter scene without the frigid temperatures.
There are plenty of ideas for outdoor decorations, too. These magical Fire and Ice Lanterns will last through a chilly evening. If you're looking for a cute project, take a peek at this tutorial on how to create Heart Ice Art. It goes along perfectly with the frozen heart theme from the movie.
Frigid Fun: Party Games & Activities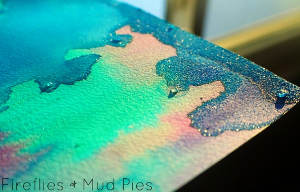 As Grandpabbie the troll explains, there is great beauty in ice magic. Show your kids how to make some magic of their own with this Amazing Ice Painting, pictured at left. For a fun (and funny!) activity, try this delightful "Pin the Nose on Olaf" tutorial. There are also tons of activities that will bring back memories of your elementary school days, like these instructions for pretty paper snowflakes. You can recycle paper scraps into festive snowflake embellishments, like these Snow Flurry Scrapbusters.
Scrumptious Snacks and Enchanting Favors
Don't be afraid to revisit some of  your favorite Christmas cookie recipes to fill out your party snack table. These Snowball Cookies are dusted with powdered sugar, calling to mind the snowy landscape from the film. Best of all, they pack a punch of flavor. Combine savory and sweet with Sven's Snack Mix which includes pretzels, M&Ms, and more. You can also stick to the blue and white color scheme of the movie with these White Chocolate Popcorn Snowballs.
Give your guests a piece of the festivities to take home with them. They can build their own snowmen out of marshmallows and pretzels by following this tutorial. It comes with a free printable tag. For an even funnier touch, try this craft that was inspired by Olaf's famous "I've been impaled" line in the film. This free printable can be paired with a lollipop or a pretty pencil.
Do you wanna build a snowman?