Hearing singing birds in the trees is the number one sign that spring has officially arrived. Once the snow melts and the trees begin to wake from their winter slumber, birds begin to flock back to their favorite spots…but have they made your back yard one of their most frequented destinations?
Make the most of springtime by gathering everyone in the family and combining your efforts to turn your outdoor living space into a bird's dream vacation spot. With these homemade bird feeders, you're sure to attract all kinds of colorful birds. Making bird feeders is a truly family-oriented activity, since everyone can find a way to help out. Plus, little ones will love watching the birds come to visit! Whether you're looking for a simple bird feeder to make or you're ready to pull out all the stops, those of us at AllFreeKidsCrafts have gathered a DIY bird feeder to suit your needs.
The birds in your back yard are sure to love their homemade treats, so don't be surprised if you have to replenish your stock! Make these DIY bird feeders again and again to make sure your feathered friends come back all through the summer.
What Should You Put in a Bird Feeder?
According to the Humane Society, you can use sunflower seeds, peanuts, peanut butter, fruit, and cracked corn in your DIY bird feeders in addition to the standard bird seed you can find at home improvement stores. You can even offer nesting materials like yarn or scrap fabric to your feathered friends. Be sure to avoid using bread in your homemade bird feeders, since it has virtually no nutritional value for birds.
Easy to Make Homemade Bird Feeders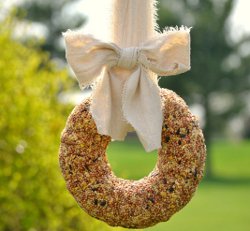 Homemade bird feeders don't have to be fancy to add a little charm to your back yard. These DIY bird feeders are incredibly kid-friendly, and little ones will have a blast while they make a special treat for the visiting birds. You won't need much to make these stunners; simply choose a design, grab the kids, and get crafting!
Basic Birdseed Wreath
Fly Bird Treat Garland
Simple Seed Bird Feeder
Birdie "Burgers"
Recycled Homemade Bird Feeders
Making a DIY bird feeder for your feathered friends doesn't have to be costly. In fact, the birds will probably appreciate your efforts to re-use and recycle! No matter which recycled material you have to spare, you can learn how to make a bird feeder the thrifty way.
Bottle Cap Flying Friend Feeders
Decorative Plastic Bottle Bird Feeder
Rustic Rope and Can Bird Feeder
Simple Plastic Bottle Bird Feeder
Other Stunning Homemade Bird Feeders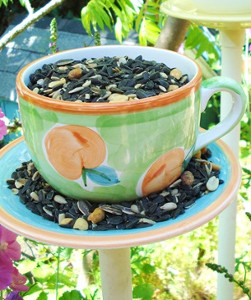 While seeing beautiful birds fly in and out of your back yard is probably more than enough to put a smile on your face, making a homemade bird feeder you can show off to all your envious neighbors might make you positively giddy. Learn how to make a bird feeder that's brag-worthy with any one of these tutorials:
Tea Time Bird Feeder
Robin Decoupaged Bird Feeder
Charming Clay Saucer Bird Feeder
Finding activities to do with the kids is always a blast, especially when you get to spend some quality time outside. Discover more fun outdoor activities by checking out our recently updated list of 32 Outdoor Crafts and Activities to Do with Kids!
 Do you ever spot feathered friends in your backyard?