If you are anything like me, your home is probably just a wee bit cluttered—to say the least. Maybe it's hard for you to throw things away because they have sentimental value, or maybe your home just lacks the proper storage to put things away in. Either way, things are starting to pile up, and you need some  DIY storage ideas. Look no further—we've got you covered. With this list of 20 Unique Storage Solutions, you can learn some great strategies for craft room storage to help you organize all of your crafting supplies. These DIY ideas are the ultimate storage solutions for anyone who loves to craft.
Craft Storage
First things first, you might as well start with your craft room. With all of the different materials you've acquired over the years for various projects, it's most likely that that's the disaster zone of your home. Put a dent in the clutter with these craft room storage solutions.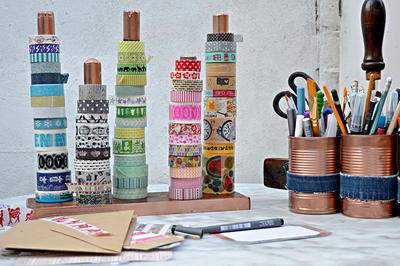 1.  Gold-Dipped DIY Organizer
2.  Knick Knack Cabinet
3.  15-Minute Recycled Desk Organizer
4.  Storage Station with PVC Cubbies
5.  Recycled Milk Carton Stationery Organizer
6.  Fresh Filing Cabinet Makeover
7.  Refashioned Cardboard Storage Bins
Kitchen Storage
You can never have too much storage space in a kitchen. Especially if you have a small kitchen, storing all of your supplies can become a huge challenge. Taking advantage of wall space is a great way to make a small space seem bigger, making DIY wall storage projects perfect when learning how to organize your kitchen.
8.  Upcycled Bookcase Coffee Station
9.  Radical Repurposed Door Organizer
10.  Chalk Paint Pantry Jars
11.  Open Shelving Kitchen Pantry
12.  15-Minute Kitchen Canister
13.  Rolling Pantry DIY Kitchen Storage
14.  Create a Functional Pantry
Miscellaneous Storage Solutions
If after organizing both your craft room and kitchen, your house is still an unorganized mess, try out these other DIY organization ideas. Maybe your kids aren't very good about putting their toys away, or maybe your files are piling up in your office. From playroom storage bins to office storage cabinets, we've got the convenient storage solutions to help.
15.  Children's Numbered Bookcase
16.  DIY Organization Board
17.  DIY Vintage Window Frame Organizer
18.  Framed Burlap Earring Organizer
19.  Personalized DIY Desk Accessories
20.  Unexpected DIY Bathroom Rack

Which room in your home needs the most organizing?