Climb aboard the summer nautical trend by making DIY nautical jewelry. From the high seas to high fashion, nautical jewelry is making a splash. Embrace this beach-worthy trend with some fun knotted projects. Whether you are preparing for sailing season, or just looking to mix up your jewelry style, nautical jewelry is a easy and accessible trend to try. Most knotted jewelry patterns require very little tools and are easily customizable to fit your jewelry making needs.
We know that you like to be on trend, yet be your own fashion force. That is why we at AllFreeJewelryMaking have compiled this collection of a variety of nautical DIY projects. Infuse bright neon colors into your designs, or embrace the bold, timeless look of navy and white. The possibilities for making nautical inspired jewelry are endless. From sail-boat worthy pieces to beach-wedding designs to nautical patterns you wear all year round, there is something for everyone in this collection of nautical jewelry patterns.
Nautical Braided Bracelet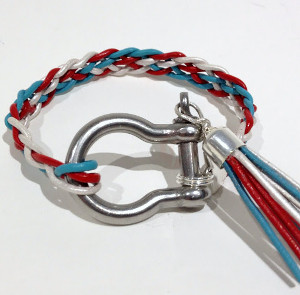 Get ready to sail the ocean blue with this Nautical Braided Bracelet. Made from leather cords and a solid braid, this DIY bracelet is tough enough to withstand any typhoon that comes your way. The cheerful colors evoke the cry of seagulls and the crash of waves. As an added bonus this red, white, and blue designs evokes a sense of patriotic pride too. It's the perfect bracelet to wear on Memorial Day and the Fourth of July, but it is also subtle enough to wear all summer long!



Bright Nautical Knot Necklace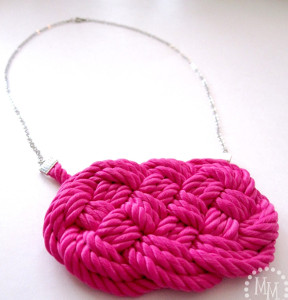 Nautical does not have to be all about navy and white. Create a bold nautical-inspired look with this Bright Nautical Knot Necklace. Be on trend, but still craft your own unique nautical look with this bright neon pink knot DIY necklace. If neon is not your style, you can still test out other colors for your nautical jewelry making. This Black and Gold Nautical Bracelet is perfect to wear all year round, and serves as a good reminder that you can set sail for jewelry making inspiration during any season.



Nautical-Inspired Necklace
It's sailing season, and you need to look great. Chances are, you never thought you would don a rope as a necklace, but the cord blends well into this recycled, Nautical Inspired-Necklace. This necklace is so stunning it could even be your something blue for a beach wedding! If you are looking for more ways to incorporate nautical designs into your wedding attire, check out Beautiful Beach Jewelry: 22 Beach Wedding Jewelry Ideas.



Nautical Knot Necklace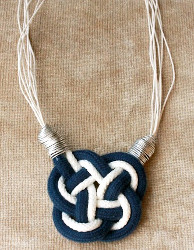 There are so many nautical designs, it can be hard to choose what to make. You can focus on the chain of the necklace and make a Finger Knitted Nautical Necklace, or learn How to Make a Nautical Rope Necklace. You can make a bold pop of color statement piece like with the Nautical Poppies Necklace and Bracelet Set. Sometimes though, you just want to go with a simple traditional design like this Nautical Knot Necklace. Classic and cool in navy and white, this knotted necklace is sure to be a favorite in your summer DIY jewelry collection.



What is your favorite nautical jewelry design?