Making a quilt for a family member or a friend is one of the most thoughtful gifts that you can give. So much care, thought, skill and love goes into every stitch. Not to mention all the planning and calculations required. (Luckily, FaveQuilts has tons of techniques and video tutorials to help you make those processes a snap! Whether you're a beginner looking for insider secrets or an old pro who just needs help getting that fabric stash organized, we have you covered.)
Unfortunately, not everyone is lucky enough to have someone who can make them that sort of long-lasting gift, and when the weather gets rough, those people are often left out in the cold. With a long spring and summer coming up, consider putting aside a little time to make a quilt for those in need. Don't know where to start? FaveQuilts has put together a list of amazing quilting charities that can help you get those blankets where they'll do the most good. These are just some of the hundreds of great organizations out there, so be sure to take a look around your local community and see what people are doing in your own backyard!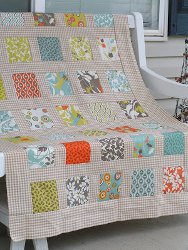 1. The AIDS Memorial Quilt Memorial & the NAMES Project Foundation
From their website: Established in 1987, The NAMES Project Foundation is the international NGO (non-governmental organization) that is the custodian of The AIDS Memorial Quilt, an official American treasure.
The mission of The NAMES Project Foundation is to preserve, care for and use The AIDS Memorial Quilt to foster healing, heighten awareness, and inspire action in the age of AIDS. Specifically, The NAMES Project works to display The Quilt in nearly 1,000 venues each year, to conserve and care for the aging 54-ton tapestry and it's half a million piece archive, and to encourage and support the creation of new Quilt panels for this ever-evolving handmade memorial.
From their website: Our goal is simple: to provide comfort to children in need through the gift of a handmade patchwork quilt. With the help of volunteer quilters we are distributing our quilts to children's hospitals and shelters across North America. Quilts for Kids, Inc. has now spread to over 100 chapters throughout North America. If we can lessen the suffering of children by showing them that they are loved, then we have reached our goal.
From their website: Our mission is to provide love, a sense of security, warmth and comfort to children who are seriously ill, traumatized, or otherwise in need through the gifts of new, handmade blankets and afghans, lovingly created by volunteer "blanketeers." We also seek to provide a rewarding and fun service opportunity for interested individuals and groups in local communities, for the benefit of children.
4. Binky Patrol
From their website: We are an all volunteer, national, non-profit organization making and distributing homemade blankets to children born HIV+, drug-addicted, infected with AIDS or other chronic & terminal illnesses, those who are abused, in foster care or experiencing trauma of any kind. Our recipients are from 0-18.
From their website: Our mission is to collect donated quilts and distribute them to children around the world, so they can be wrapped in love and comfort. As we all know, a quilt is a very special thing. It isn't just a blanket; it has been lovingly created by a real person. A quilter leaves a part of themselves in every quilt they make. The child who receives it will be able to snuggle up in all the love that comes in that quilt.
While you're at it…Sew a little love with Easy Quilts for Beginners and Beyond: 17 Quilt Patterns from Quiltmaker Magazine!
Need a pattern to make for that charity quilt? The best way to improve one's quilting skills is by trying new techniques and ways to use the basics in creative ways the patterns in Easy Quilts for Beginners and Beyond: 14 Quilt Patterns from Quiltmaker Magazine can show you just how easy this is. Beginners and experienced quilters are in for a treat with this series of easy quilt patterns that the simple cuts and shapes quilters are familiar with, and skillfully turn them into impressive designs that are sure to impress with their intricate looks.

We are giving away this book absolutely free until February 25, 2014! Enter to win and get started on your next project, be it for charity or for yourself!