Feeling a little stuck in the past? It's easy to gravitate towards traditional quilt patterns that are tried and true, but these designs don't exactly free up your quilting creativity. Instead of making an old-fashioned pattern, try something new! Let these free modern quilt patterns from FaveQuilts inspire you.
Free Modern Quilt Patterns
We've rounded up some of the most popular modern quilt patterns on FaveQuilts for your crafty consumption. Whether you prefer to make full quilts or start with quilt blocks, we have a variety of designs for the modern quilter to choose from.
Modern Quilt Blocks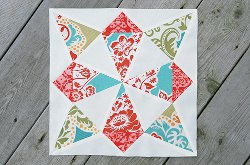 We may be looking at innovative quilt patterns, but we don't need to stray from the tradition of piecing blocks together. Start with the basics and make a modern quilt with modern quilt blocks. These innovative designs will inspire you to design your own 21st century quilt.
1. Whirling Star Quilt Block
2. Flying Geese Pinwheel Block Pattern
3. Ultra Modern Dresden Block
4. Wonky Quarter Log Cabin Block
5. Candy Pinwheel Quilt Blocks

Modern Quilt Patterns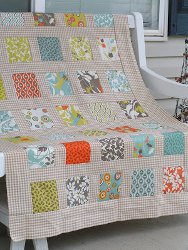 Maybe you thought you knew all there was to know about quilting, but have you seen patterns like these? Add a modern edge to your next bed quilt or throw with any of these modern quilt patterns. Whether you use two different techniques in one quilt or choose wild fabrics to add a modern or even futuristic touch, these quilts will ignite your creativity.
1. Ah-mazing Improv Quilt
2. Two by Two Stripe Quilt Pattern
3. Starburst Quilt
4. Wonky Log Cabin Throw
5. Styled and Sashed Modern Garden Quilt
6. Blueberry Hill Embroidered Quilt Throw
7. Color Power Folded Star
8. Concentric Diamonds Patchwork Quilt
9. Simply Authentic Quilt
BONUS! Enter to win the Think Positive Quilt Pattern from Esch House Quilts! This pattern as designed by Debbie Grifka is a modern take on a timeless craft. Contest runs 2/12/2014 – 2/25/2014.
Are you a modern quilter or do you prefer traditional styles?