Want to make stunning DIY jewelry pieces? You cannot go wrong making jewelry with gemstones.  You've probably heard that diamonds are a girl's best friend, but any homemade jewelry piece made with a gemstone is sure to be a favorite in your collection.
A gemstone or gem is a piece of mineral that, when cut and in polished form, is used in jewelry making. Both precious and semi-precious gemstones are classified into different groups, species, and varieties. What they all have in common is that they are wonderful components for making gorgeous jewelry. Many gemstones have been making a comeback in popularity lately thanks to celebrity engagement rings like Kate Middleton's stunning sapphire ring.
You don't have to be a royal to add gemstone pieces into your jewelry collection; there are plenty of budget-friendly, homemade jewelry projects. That is why we at AllFreeJewelryMaking have compiled this list of wonderful DIY jewelry projects with gemstones. Enjoy making these beautiful, trendy, homemade jewelry pieces!
Homemade Bracelets
One way to incorporate gemstones into your DIY jewelry collection is with homemade bracelets. A great option to start out with is this Wire-Wrapped Agate Cuff Bracelet. Learning how to make bracelets can be intimidating, but there is no reason to be nervous about getting started when you try this wonderful bracelet pattern for beginners. Not into wire-wrapping? Try a Jasper Stone Bracelet or a Hematite Slab Bracelet instead!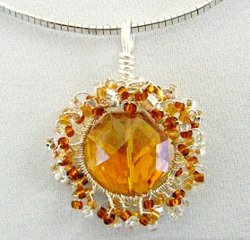 DIY Necklaces and Pendants
A homemade necklace is an amazing way to show off your dazzling gemstones. Make a DIY pendant like this Topaz Sunburst Pendant, and string it on your favorite style chain. You can also make a statement necklace featuring gemstones like an Agate Statement Necklace. Here are some other gemstone necklace projects: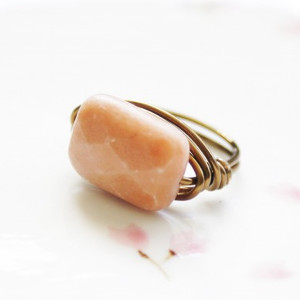 Homemade Rings
Make a gemstone ring that is both elegant and versatile like this Wrapped Peach Aventurine Ring. Aventurine is a type of quartz that gives off a glistening or shimming effect, and this DIY ring is sure to be a shiny standout. Need an even shinier piece? Try a Bright Bling Ringlet.  If you are in need of a little less bling, a Stone Cap Ring is another great option for a DIY jewelry project.
DIY Earrings
DIY earrings are always an awesome way to start incorporating a new type of jewelry into your collection. Make glamorous earrings like these Enchanting Emerald Earrings to make your friends green with envy over your sparkly jewels that have a budget-friendly prices. Even simple studs can be made more alluring when a gemstone is added, like with these Carnelian Dotty Post Earrings. For more homemade earrings featuring gemstones, try the earring patterns below.
Looking for a set of matching jewelry pieces featuring gemstones? Try a burst of red with a Red Jade Bracelet and Earrings Set, or add a dash of green to your outfit with this Jade Floral Jewelry set. Still haven't found the right piece of DIY gemstone jewelry for you? Visit AllFreeJewelryMaking.com to find more gemstone projects.
Are you loving the Enchanting Emerald Earrings? It's your lucky day. You have a chance to win AllFreeJewelryMaking's Enchanting Emerald Earrings Starter Kit Giveaway from Bettina Johnson Jewelry! Read our review of the Enchanting Emerald Starter Kit. Enter by December 2, 2013 to win!
What is your favorite gemstone?