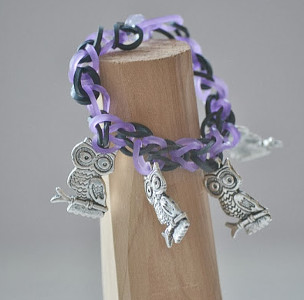 Have you heard about the Rainbow Loom craze? The crafting world has been taken by storm by this jewelry making phenomenon! Kids (and adults) have jumped on this new crafting trend. Rainbow Loom crafts are cool accessories (mostly bracelets) made out of tiny, colorful rubber bands that are usually found on the arms of kids and teens. Go to any craft or toy store, and you are sure to find them!
From necklaces to bracelets to rings, there are so many homemade jewelry making options when it comes to crafting these rubber band jewelry projects. You can even add little charms to your projects, like with this Owl Charm Rainbow Loom Bracelet. You'll be amazed how stylish some of these rubber band jewelry pieces can be; we love this Chic Chain Rubber Band Jewelry and this Grown-Up Rainbow Loom Bracelet. We are so excited about the Rainbow Loom here at AllFreeJewelryMaking that we have compiled a list of some of our favorite rainbow loom patterns for you to enjoy. With a variety of looms to choose from, including the Rainbow Loom, FunLoom, Cra-Z-Loom, and Wonder Loom, you have so many options to choose from to be a part of this craze. Kids and adults alike will love making these colorful, fun DIY jewelry pieces.
Plus, if you or someone you know loves using a rubber band loom, you're going to love our new giveaway!  AllFreeJewelryMaking is giving away a copy of Rubber Band Loom Crafts, a book from Leisure Arts, filled with amazing designs for DIY projects that you can make on any rubber band loom. Scroll on down to enter today!
7 Rubber Band Loom Patterns
More Rubber Band Loom Supplies
 Bonus!
Enter to win a Rubber Band Loom Crafts! If you're a teacher, parent, or anyone who's talked to a kid recently, you know that rubber band looms have taken the world by storm!  With this craze, you will need a helpful guide to navigate all the options you have to create with this fun product, and that is where Rubber Band Loom Crafts: Easy Jewelry & More for Girls and Guys! from Leisure Arts comes in. Use this book as a helpful guide for kid-friendly projects to make with this fun jewelry making product. Head on over to our giveaway page and enter to win! You only have until February 3rd, 2014 to enter!
Are you a fan of rainbow loom jewelry?