"If I can do it, you can do it" is a common phrase of mine when I talk about a new craft technique I'm trying out. I'm not usually a very confident crafter–I prefer to stick to what I know, like painting projects and crafting with clay. But after learning how to crochet (and telling everyone how truly easy it is to learn), I've made it my mission to try new crafts and prove that you (and your kids!) can do it, too. This time, we're talking about knitting.
Knitting might seem intimidating, but don't be scared away! Knitting is a very worthwhile kids' craft project, especially when it means you can knit your own winter gear to keep you warm through the chilliest months of the year. Learning how to knit is easier than you might think, so let yourself be surprised and give this craft a try.
P.S.: If you diligently scroll through this post and learn a few new techniques, you might just find a surprise at the end…
Learn the Concept: Finger Knitting for Kids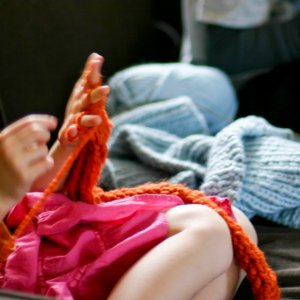 Alright, so finger knitting isn't exactly the same thing as actually knitting, but it's a great way to get a basic understanding of what knitting is all about, and it's a great place to start if thinking about knitting makes you a little nervous. Learning how to finger knit is fun for kids and adults alike, and it's an especially great boredom buster if you're looking to keep little ones busy. Plus, there's so much you can do once you learn how to finger knit! Here are a few popular finger knitting ideas on AllFreeKidsCrafts:
Let's Begin: Easy Knitting Stitches
Step One: Cast On
What's casting on? That was my first question, too. Casting on means putting stitches on to the needle so that you can begin your knitting projects. There are a few ways to cast on, but this video tutorial is our favorite. Simply follow the video and then move on to step two.
Step Two: Learn the Stitches
Basic knitting uses two simple knitting stitches, called knitting and purling. There are lots of other stitches you can learn, but knitting and purling are absolutely essential if you want to learn how to knit.
This video tutorial will teach you how to knit:
Got that down? The second stitch you need to learn is purling. Check out this video tutorial:
Do you prefer to follow step-by-step photo tutorials? If so, click here to find a knitting tutorial, and click here for purling.
Step Three: Learn to Read
You don't have to know everything there is to know about knitting right this second, but this abbreviation guide is enormously helpful when you're ready to take on your first knitting projects and have to read the pattern. It takes some practice, but as long as you have a guide close by, you'll be just fine.
Easy Knitting Patterns Kids Can Try
You're well on your way to becoming a tried and true knitter, now that you've gotten the basics down. Are you ready to put your new skills to use? Easy knitting projects for kids aren't hard to find…you just have to know where to look! We have a feeling that once you try one of these easy knitting patterns for beginners, you'll just have to make them all.
Have we inspired you to take up a new hobby? Great! That means you'll love this Learn to Knit Kit! Complete with needles, practice yarn, and easy instructions, this kit is the perfect way to learn how to knit a scarf and take the leap into the world of knitting. From now until February 17th, you can enter to win your own Learn to Knit Kit! Click here to learn more.
Have you ever tried knitting?