When it comes to crafting — embrace the lace! There are so many fantastic ideas for incorporating lace into your crafting projects. Lace crafts add a delicate, romantic, and feminine appeal to your crafting. Plus, it's an easy material to work with. You can either buy lace to craft with or you can follow an easy tutorial on how to make lace. Whichever way you choose to work with it, lace can be added to all aspects of your crafting such as in jewelry, home decor, and more! Scroll down to view some of our favorite lace craft ideas, and don't be afraid to embrace the lace!
P.S. Be sure to check out our amazing Cleaning Out the Closet Giveaway below!
Sophisticated Handmade Lace Coasters: these lace coasters are unbelievably budget-friendly, and they make great DIY gifts for any occasion or holiday!
Lovely Lace Baskets: store your trinkets in these delicate baskets. They're a beautiful home decor item, yet still functional.
DIY Lace Insert Button-Down Shirt: create this design based off of similar items from retailers. It's a creative way to refresh an old shirt from your wardrobe.
Dainty Lace Jewelry: embrace the lace by adding some lace to your jewelry collection! DIY jewelry projects are so much fun and you can make a pair to match any ensemble.
Brilliant Lace Bowls: these bowls are simply divine! This tutorial is a great guideline if you're looking to upcycle or reinvent some existing serveware.
Upcycled Lace Vase: do you have some thrifted vases or some old ones that need something special? Add some lace! Follow this easy tutorial on how to totally transform a basic vase.
Lightweight Zen Jacket: don't forget to add some lace to your wardrobe! This jacket is a fantastic example of how lace can be your statement piece in your outfit. It's the perfect extra layer over a dress or your favorite tee.
Bonus giveaway!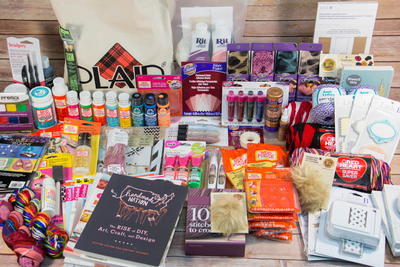 Enter to win the Cleaning Out the Closet Giveaway! One lucky winner will receive this amazing collection of books, yarn, notions, embossing and dies, paper craft materials and general craft materials.