Have you ever knit a dishcloth? They are one of the quickest and easiest things to knit and they make perfect gifts. Today I bring to you not one, not two, but nine knit dishcloth patterns all in different stitches! Learn how to knit a dishcloth in nine different stitches and you'll be able to see which stitch is your favorite. I personally love them all! It all depends on your skill level, but you can work through each dishcloth knitting pattern and decide for yourself. Like I said, these are quick knitting projects that are perfect for beginners!
Knit Garter Stitch Dishcloth
Some people say that this pattern is the only pattern they use for dishcloths! Garter Stitch knitting is easy and this pattern is perfect for those who want to learn how to knit the garter stitch.
Slip Stitch Knitting Pattern
This dishcloth is super fast and easy knitting pattern. The slip stitch is a neat way to create texture.
Stockinette Stitch Dishcloth
Stockinette stitch knitting is a neat and tidy stitch that will help you practice you knits and purls.
Lattice Stitch Dishcloth
This knit dishcloth pattern is a great way to step up your knitting skills.
Knit Seed Stitch Dishcloth
Knit seed stitch is the best way to create the ultimate texture for a dishcloth. Great for scrubbing!
Double Seed Stitch Dishcloth
After you learn the how to seed stitch, double the fun with this knit dishcloth pattern.
Basketweave Knit Dishcltoh
This knit technique lets you switch from knit to purl to create the basketweave effect.
Moss Stitch Knit Dishcloth
The moss stitch is another wonderfully textured stitch.
Waffle Stitch Knit Dishcloth
Create this fun texture with an easy-to-memorize pattern.
Which knitted dishcloth pattern do you want to try?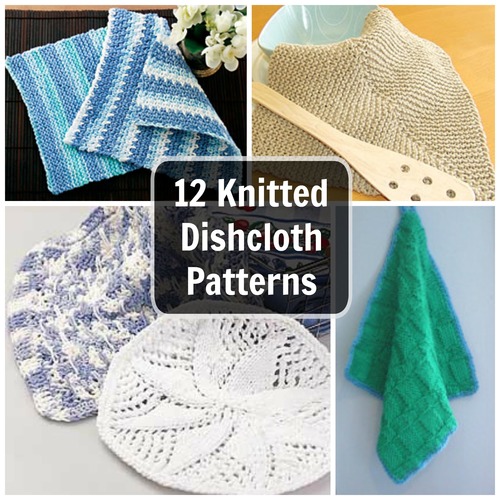 ---
These free dishcloth knitting patterns are varied and unique – you won't find two patterns that look anywhere near the same. Dishcloths are a great option for beginning knitters or anyone who wants to make something in one night. Often, these projects only require one skein of yarn, so you can make a dishcloth anywhere.
---
Follow AllFreeKnitting's board Knit Dishcloth Patterns on Pinterest.