When you picture friendship bracelet patterns, you probably think of basic embroidery floss and knots, but friendship bracelets have come a long way since our playground days, and they've never been more on trend. The very definition of "friendship bracelets" has expanded to include all kinds of awesome arm candy, from crystal-embellished macrame bracelets to colorful leather cord wrap bracelets, and in our new free eBook, How to Make Friendship Bracelets: 12 Fun Friendship Bracelet Patterns, you can find 12 ways to make friendship bracelets that you've probably never thought of before.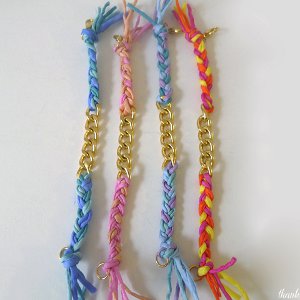 If you think friendship bracelets are just for kids, think again. This collection of patterns includes designer-inspired knockoffs that any fashionista would want to get around her wrists. These chic DIY Silk + Chain Friendship Bracelets are inspired by a much-buzzed-about Ariel Gordon design and look just like the original (but cost way, wayyy less). And they couldn't be easier to make!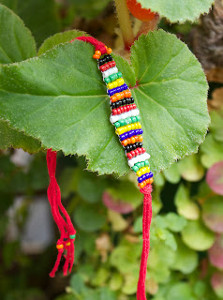 If basic string bracelet patterns seem like a bore to you, then you'll love the super hip Punch and Judy Friendship Bracelet, which turns up the volume on traditional friendship bracelet designs by adding bead weaving into the mix. This bracelet has a tribal vibe that is so fun and boho chic, don't you think?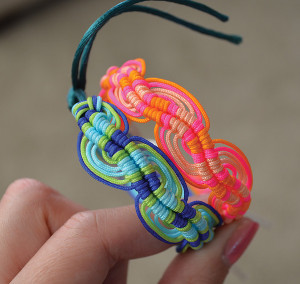 But don't worry! If traditional embroidery floss friendship bracelet patterns are what you're looking for, this collection includes those too! Projects like the Classic Spiral Friendship Bracelet tutorial and the Wavy Friendship Bracelet will get you your recess-esque friendship bracelet fix (with a twist).
This is just a little taste of what's in store for you when you download your free copy of the How to Make Friendship Bracelets: 12 Fun Friendship Bracelet Patterns free eBook. In addition to these awesome friendship bracelet designs, you'll also find a crochet pattern, a bangle bracelet tutorial, a painted wrap bracelet, and macrame patterns galore. There's definitely something for every style and skill set included in this collection. Grab your free copy and make an arm party today!
Now the only question left is…
Will you give these friendship bracelets to your BFF, or will you keep them all for yourself?