The biggest event of the summer is indisputably the Fourth of July. From red, white, and blue decorations down the block to fireworks sounding off at night, this holiday is truly American. As we always say at AllFreeHolidayCrafts.com, there's no better way to celebrate than through handmade creations, and you'll adore these party decorations and party clothing patterns. Thanks to our latest creation, Patriotic Crafts: 14 Fourth of July Crafts and Fourth of July Party Ideas, you will be able to create a wonderful Fourth of July party and look fabulous, too.
Whether it's for a family shindig, the local parade, a friendly neighborhood barbeque, or the fireworks viewing party, you'll make a statement with these Fourth of July crafts and Fourth of July party ideas. This summer holiday is a great time to be outside enjoying the great weather, fun with friends, and our American freedom. That's why, all of these awesome projects are sure to help you make the most of it.
Fourth of July Party Ideas
Filled with party ideas like All-American Mason Jars (pg. 10) and Patriotic Paper Pinwheels (pg. 19), you'll be swimming in summer ideas with an American twist. These fun and festive 4th of July decorations are all simple tutorials that will totally transform your holiday party this July. With a selection of decorations meant for the backyard, you'll be able to decorate for any type of summer get-together. These Fourth of July decorations will make great accents for your neighborhood bash or BBQ. Show everyone how you're proud to be an American with a little handmade spirit!
Handmade Accessories and DIY Clothes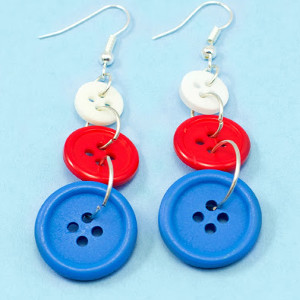 When the party is about to start, it's in your best interest to have the perfect accessories prepared for the event. These easy-to-make earrings (pg. 37) are the perfect accessory to your red, white, and blue outfit on the Fourth of July. They'll add a special, homemade touch to your ensemble! Perfect your look when you make the matching ring that is also included in Patriotic Crafts: 14 Fourth of July Crafts and Fourth of July Party Ideas! Don't stop there, the kids need a patriotic look, too. Whip up the Fourth of July Romper found in this printable collection for your granddaughter or daughter. This romper is as American as apple pie, and cute as a button, and there are plenty more patterns where that came from!


What's your favorite way to celebrate the Fourth of July?