I pass a beautifully dressed, well-put-together mother of four and promise myself that from that moment on I will start dressing incredibly fashion-forward. That happens to me too frequently to explain my still-all-too-often-worn lazy outfits without an accessory in sight. Why do I still not accessorize as well as those busy mamas? It's pricy. Thank goodness for books like Making Beautiful Bead & Wire Jewelry for rescuing women like me from the depths of accessory avoidance. This wonderful guide from CICO Books and Linda Jones provides 30 affordable ways to rock trendy styles. Are you ready to blow those stylish moms out of the water with gorgeous handmade jewelry? Enter for the chance to win your very own copy of Making Beautiful Bead & Wire Jewelry!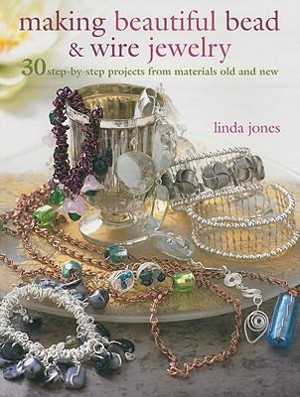 Amass all the knowledge necessary to make stunning jewelry in an affordable way when you get your hands on Making Beautiful Bead & Wire Jewelry. Whether or not you've ever attempted to handcraft bling before, this book will guide you to trinket triumph. The addition of wire to your beaded jewelry allows for an abstract, modern look that is spot-on trendy. You will learn how to shape wire into swirls, chains, spirals, butterflies, and free-form creative masterpieces. If you already know how, Making Beautiful Bead & Wire Jewelry presents you with exclusive, unique designs which you can create. Never before have you felt quite so à la mode as when sporting your own hand-crafted jewelry.
If you wish to truly enhance your jewelry-making abilities, Making Beautiful Bead & Wire Jewelry is a must-read. The designs which you will make look as though they came from an expensive jeweler, and they are entirely fashion-forward. Craft chicly and affordably with the extremely helpful guide on how to become a bead and wire jewelry connoisseur.
Enter now for your chance to win a copy of Making Beautiful Bead & Wire Jewelry! The contest ends December 31, 2012, and you can enter once a day, so keep coming back to improve your chances!
Rings, Necklaces, Bracelets, or Brooches: What type of jewelry makes you feel the most put-together?