When was the last time you picked up a new hobby? It is so easy to fall into the same patterns every day—whether it's your career, your kids (or grandkids), or even the same crafts and activities that you've perfected, it's human nature to let yourself stay firmly in your comfort zone.
Recent studies have shown, however, that breaking out of those ruts can help us not only break new ground in our own lives, but may actually help prevent memory loss.
Dr. Denise Park from University of Texas at Dallas found that his subjects, all older individuals, made great gains in memory retention after they had learned a new skill, be it photography, computer science, or even quilting! "We found quite an improvement in memory, and we found that when we tested our participants a year later, that was maintained," Park told NPR earlier this week.
As obvious fans of quilting, we couldn't agree more with this assessment. Hobbies like crafting and quilting require use of your whole brain—the creative side, envisioning patterns and designs, and the technical, mathematical part of actually putting the craft or quilt together. It's no wonder this mental workout improves memory!
In fact, Dr. Park went so far as to state that "by maintaining a very active brain, you could defer cognitive aging by a couple of years."
It's not often that we here at FaveQuilts encourage our readers not to quilt, but why not branch out a little? The best thing about the world of crafting is that there are always new avenues to explore.
DIY Home Decor Crafts
Make an amazing little tissue box with the plastic canvas Hearts and Flowers Tissue Box or light up a room with the Scrap Ribbon Lamp.
Not thinking big enough? Take up glasswork with the Faux Stained Glass Window! The important thing is to try something new, whatever that may be. Let no hobby or craft be too big or too small. Even something like the Pansy Ball Jar, which is so simple to put together but looks so beautiful wherever you put it, is a great way to exercise your brain and get something totally delightful out of the deal.
Make Your Own Jewelry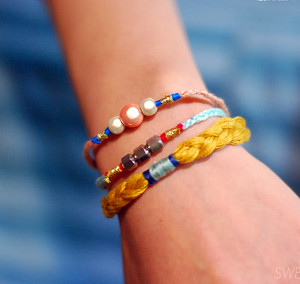 If DIY home decor isn't your thing, why not try beading and jewelry? This is one of those creative skills that is fun to do, looks wonderful, and lasts forever. How can you resist a statement piece like the Bright and Tassled Beginner Bracelet or these adorable Flirty Spring Rings?
Learn the basics of DIY jewelry making and you are setting yourself up for a lifetime of fun with fashion. Gorgeous, easy necklace tutorials like the Silver Shade Bead Necklace and the Classic Daisy Chain are the perfect way to play around with techniques you already know by building on a built-in knowledge base.
Paper Crafts for Kids … and For You!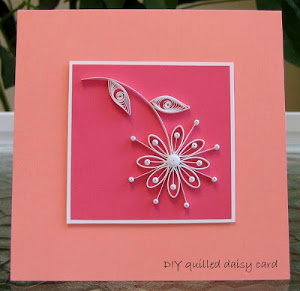 Learning a new hobby can be pricey, but with just a little ingenuity you can sidestep the heavy bill. From paper plate crafts to toilet paper roll crafts, there is no shortage of things to make with inexpensive materials.
This Simple Quilled Daisy Card has a simple process but a beautiful, understated look. For something a little more bold, try the Crepe Paper Tulips, which will turn any room into paradise.
As it turns out, it really doesn't matter what you make … as long as you're making something. Challenge yourself to learn something new. And you never know—leaving that quilt project that's had you stumped for weeks to brighten up your kitchen with easy DIY paper flowers just might shake loose your quilter's block and allow you to sew forth with ease!
Of course, if you've never quilted before… well, now seems like a pretty good time to start. Your brain will thank you!
When was the last time you took up a new hobby?