We've gathered up the summer's hottest chevron quilt ideas in this blog post, The Chevron Summer: 17 Easy Quilt Patterns.
The crafting term "chevron" gets tossed around a lot. But let's step back…what is a chevron pattern?
Basically, a chevron pattern is just a variation of a zig zag pattern, with a reoccurring "v-shape." You can use chevron in quilting in a variety of ways: with quilt blocks, full-sized projects, baby quilts, and unexpected quilting ideas.
The reason that chevron quilts are so popular with crafters is that they're so easy to assemble. Because you're working with simple strips of fabric, you definitely won't get confused. Chevron stripe is also a more modern design, for quilters who are looking to broaden their quilting horizons.
Regardless of the pattern you choose from this AWESOME (if I do say so myself…) list, you'll have fun looking through all the latest summer trends. We think you'll pick a few of our projects, though. Because who can resist a free quilt pattern?
Chevron Quilt Blocks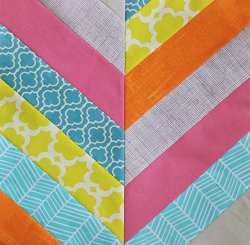 A chevron quilt block pattern is a great way to familiarize yourself with the zig zaggy print. These quilt block ideas will inspire and teach you valuable techniques!
 Easy As Pie Quilt Tutorials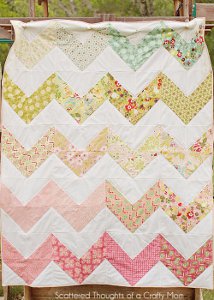 Summertime is difficult enough. It's hot, and you have to wrangle the kids in from outside. Make your life easier with these simple quilt patterns. Pick bright and cheery fabrics to channel the summer season.
6. Easy Peasy Chevron Quilt Pattern
8. Quirky Colored Chevron Stripe Quilt
9. Chevron Waves Wedding Quilt
Chevron-y Baby Quilt Tutorials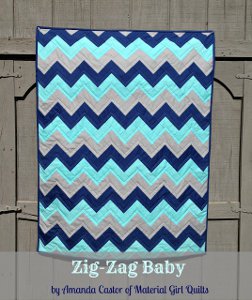 Crafters often wonder how to make a baby quilt. Luckily, chevron stripes are a wonderful introduction to the art of baby quilting. Follow one of these chevron baby quilt tutorials; we promise you won't go astray.
11. Softie Chevron Minkee Baby Quilt
12. Striped Chevrons Baby Quilt Tutorial
14. Chevron Cut Chenille Baby Quilt
Unexpected Ideas: DIY Chevron Quilt Patterns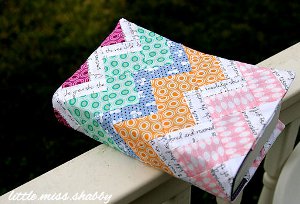 Sometimes full-scale projects can be boring. You'll have the chance to quilt something fun and different with these unexpected, easy quilts to make.
17. Style with Chevrons Placemat
Do You Think Chevron Quilts Are Fun to Make? COMMENT BELOW!