For the majority of us, our smart phones are our go-to tool.  Not only are they phones, but most now can surf the web, pay your bills, store your music, and even act as a high-quality camera.  Gone are the days of poor photo quality…today's cell phones have the ability to take amazing photos and upload them directly to your social media site of choice.
If you're a craft designer like me, you may also use your cell phone to take photos of your work to upload onto Pinterest, Etsy, Artfire, or your own online store…and believe it or not, there are now tools to help you take professional-looking photos with just your smart phone…but we'll get to that soon…
First, let's talk about some basic photography tips that you can use when it comes to taking photos of your craft projects.  Most of us don't have the luxury of having professional photography equipment lying around the house…so we have to make the most of what we have available to us…in Quick Photo Tips: Do What You Can with What You've Got, you can learn how to use the tools you have available to you to create amazing photos of your work.  Learn how to set up a photo studio and where the best places in your house are to take your photos.
Once you've set up your studio, read Lights, Camera, Action: How to Light Your Photos and Displays for helpful suggestions on how to shed just the right amount of light on your project.  We also suggest reading How to Photograph Craft Projects: Photography Guide for Selling Your Arts and Crafts Online for a great step-by-step guide for making your projects stand out above the rest.
Finally, it's time to edit!  We suggest using PicMonkey to edit your photos, as you can easily edit one sigular photo or arrange several photos into an amazing collage!  Not familiar with PicMonkey?  Check out our series on how to use this free photo-editing software!
Once you've taken and printed off your photos, try crafting up one of these awesome DIY frames to help showcase your work!  Display them in your office, on the wall, or in the living room and have fun showcasing those who mean the most to you: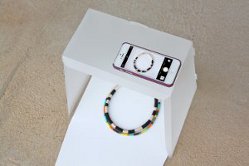 Bonus!  We want to help you create the best photos you can…so we're giving away 1 Lightcase to 5 lucky winners!  The Lightcase is a pop-up photo studio that allows you to take professional-looking photos with your smart phone.  Great for photographing anything from small craft projects to new, exciting recipes, the Lightcase is a must-have for hobbyists of all kinds!  You have until May 19th to enter…click here to enter today!