We are entering the season of rebirth and new beginnings, which means another opportunity to make jewelry. This spring, create a new you by learning how to make necklaces with BIG impact. We've selected 29 DIY statement necklaces that are big, bold and fabulous. Whether the winter is dragging you down, work is drab or your boyfriend just dumped you, chances are some necklace crafts are your antidote to the blues. Let's preview these necklace designs and create a newer, fiercer you.
Wear the Rainbow
Maybe you tend to be monochromatic in your look. If that's the case, add some color to your jewelry box with this Rainbow Royalty Statement Necklace. It's a DIY necklace that relies on washi tape to add a rainbow effect to the focal pendant. This is one of those necklace designs which will surely be the crown jewel of your collection. Subsequently, wearing it will make you relish in the feeling of royalty.
Are you a hardware girl? This DIY necklace allows you to add color to something other than beads. Relying on hardware store candy, this Brass Ring and Neon Knot Necklace pops with the help of a neon nylon cord. Find out how to make a knot necklace like this one; you'll be brimming with confidence.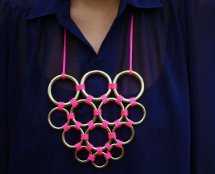 Bedazzle Everyone
Love beads? Perfect. You can learn how to make a beaded necklace big time, with this Waterfall Multi Bead Necklace. This stash-buster is well worth the work. With shell beads cascading down your neckline, you'll look like a goddess who is not to be reckoned with.
Rise and Shine!
Indulge in a little stardom by trying out this Golden Globes Necklace Set. You can create a necklace that's fit for celebs by wiring crystals into an elegant and provocative DIY necklace.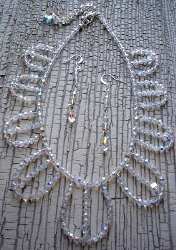 You can also bring the shine back with something other than crystals by making this Metallic Mermaid Necklace. Learn how to make a necklace that has a seafaring twist for a fashion adventure.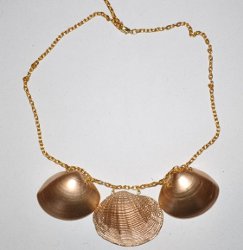 Perhaps you're looking for a statement necklace design that is a little different than these. If that's the case, worry not! We've got you covered. These are only 5 of the 29 DIY Statement Necklaces that we've selected as show-stopping accessories. There are plenty of designs to choose from with enough color, beads and sparkle to make a statement that says you're self-assured, secure and happy. Bust out one of these stunning necklaces and you'll remember that you're not the supporting actress; you're the leading lady.
Be honest: what's the boldest accessory you've ever worn?