Like most people out there, I try to do my best at being environmentally friendly. I use a refillable water bottle as opposed to buying plastic ones, I make sure to recycle everything I possibly can, and I try to avoid driving and walk to my destination whenever possible. Beyond going green for living, I also go green for creating! There are countless reasons why everyone should consider reusing, recycling, and repurposing when they craft. Obviously, it's a little nicer on the environment. Green crafting is also pretty nice on your budget, too.
So for your next project, try going green! Bust out those scraps, reuse something you have lying around, or create something new with a few materials in your recycling bin. Old sweaters too worn to donate? Cut them up to create a fabric wreath! Spare buttons lying around? Create some button flowers! There are so many ways that you can go green when you're crafting. Take a look at some of the crafts from AllFreeChristmasCrafts below. These crafts that you don't have to sacrifice beauty to go green.
Want to Learn More About Green Crafting?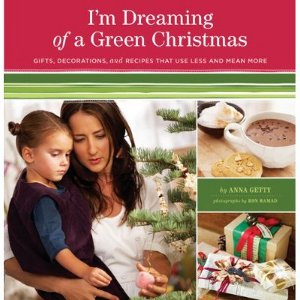 Enter our giveaway for Anna Getty's book, I'm Dreaming of a Green Christmas. Full of crafts, recipes, and green tips, this book is the perfect way to get more inspiration for going green. The contest runs until January 28th so don't miss your chance to win, enter today!