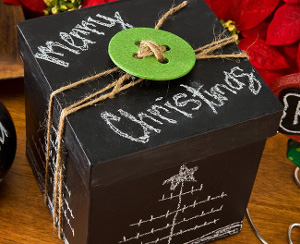 When I was little, my favorite way to give gifts was the hard way. I would wrap several nesting boxes in layers and layers of duct tape, then wrap it with several layers of newspaper, then more duct tape . . . you get the idea. Now that I'm a little older, I'm less concerned with making loved ones work for their presents and more concerned with making unique and creative gift packaging ideas.
You probably have some gift ideas in mind already for the upcoming Christmas holiday, but how do you give them? Maybe you have small gift ideas but your house is filled with only large gift bags and boxes. Maybe you have gifts in awkward shapes and sizes that are trickier to wrap than you thought. Like me, you probably want to make the gift packaging as exciting as the gift itself. After all, nothing says Merry Christmas like dazzling gift wrap to foreshadow the exciting gifts inside.
Box Crafts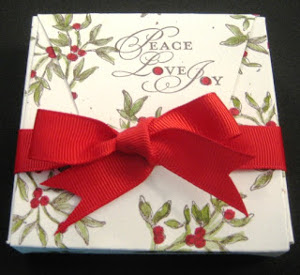 From Small Trinket Paper Gift Boxes to Recycled Gift Canisters and more, you are sure to find box crafts here that will be perfect for your gift. Many of these wonderful gift packaging ideas double as decorations, like the Christmas Keepsake Gift Boxes or the Painted Joy Gift Box.
Christmas Ornament Gift Box
Painted Joy Gift Box
Peppermint Gift Box
Recycled Gift Canisters
Small Trinket Paper Gift Box
Triangular Gift Box
Wrapped Up Gift Can
Chalkboard Paint Gift Box
Christmas Keepsake Gift Boxes
Christmas Cookie Tins
Bag Crafts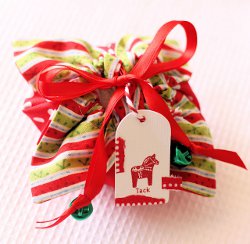 Bag crafts are perfect for wrapping a bunch of small items, especially if these items are awkward shapes and sizes. Try making mini gift bags like the Fabric Gift Wrap or put those crochet skills to the test with the Crochet Santa Pants Bag. You can go thrifty when you reuse leftover scrapbook paper to make the Easy Scrapbook Paper Gift Bags. Gift packaging ideas abound when you check out all of the wonderful gift bag crafts AllFreeChristmasCrafts has to offer!
Crochet Santa Pants Bag
Fabric Gift Wrap
Sponge Paint Snowman Gift Bag
Santa Gift Sack
Embossed Velvet Christmas Gift Bag
Jar Crafts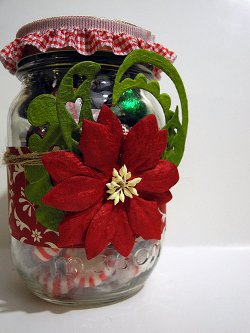 I personally love glass jars. Jar crafts are so much fun, and they really make for unique gift packaging ideas! You can use glass etching with projects like the Personalized Christmas Jar and the Festive Etched Glass Jars. The great part about these crafts is that they can be used as decorations or for various storage after the Christmas holiday. This Gorgeous Poinsettia Christmas Jar can be used as Christmas mantel decor for years to come.
Single Serving Hot Chocolate in a Jar (comes with a free recipe!)
Festive Etched Glass Jars
Personalized Christmas Jar
Gorgeous Poinsettia Christmas Jar
 When if comes to gift packaging ideas, do you prefer bag crafts or box crafts?