Books can take us on magical journies through time and space…opening doors to new worlds, introducing us to new characters, and giving us new outlooks on life.  They hold some of our favorite stories and tales, and they give us the power to scour the deepest regions of our imaginations. 
While books are great for painting a visual world in our brains, they can also be used as physical decorations in our homes…with images and words literally popping out of the pages and adding color and style to our lives.   Whether you use the cover or the pages, books are fabulous tools for making unique and amazing projects.
As an avid book lover, I fell in love with these amazing book crafts and project ideas.  These projects are great for putting old books and thrift store books to use, and they're a cheap and fun way to "smarten up" your decor.
If you love decorating and crafting with books, you're sure to love this little list of 10 Brilliant Book Crafts.  From wreaths to wrapping, pumpkins to ornaments, this collection offers a unique way of looking at an old book.  To further your fun, be sure to check out our giveaway at the bottom of the post!  Lovers of 3D book art are sure to appreciate this one!
Between the Pages: 10 Book Crafts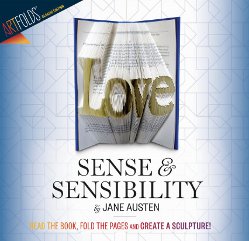 BONUS!  We're giving away an Artfolds book to 2 lucky winners!  These amazing books can be transformed into beautiful works of art by simply folding the pages.  Printed with a bar on each page to mark how the pages should be folded, these publications make it easy for anyone to create a lovely book sculpture.  You have until October 14th to enter, and you can enter to win once a day…so the more you return, the greater your chances of winning this awesome giveaway!  Head on over to the giveaway page now and register to win!  Good luck!