The Flower School New York prepares florists and floral designers with classes in introductory, intermediate, advanced and intensive floral design, as well as advanced wedding floral design, master classes and workshops. Students learn principals and techniques of floral design, flower procurement, and flower conditioning to prepare for careers in floral design. But you don't have to study floral design for years to use be able to arrange flowers like a pro.
Use the Right Tools
To handle and prepare flowers for beautiful and creative arrangements, you need to use the right tools. Make sure you get a hold of the right tools before attaining the flowers and greens. Floral clay, foam, wire, and tape help to keep stems and leaves in place within the arrangement and keep flowers and greenery from moving or sticking out at odd angles. Use a water spray bottle to keep flowers and foliage fresh, plastic liter soda bottles with the tops cut off to hold plant materials as you work on arranging them, and chicken wire to hold stems and other materials in place. Sharp scissors and clippers are necessary for snipping leaves and cutting through tough stems and twigs, as Country Living explains. Rubber bands hold stems together and keep flower bunches upright. Cooking spray seals the pores of flowers like tulips and orchids to conserve moisture and make flowers last longer, and a tablespoon of bleach in the water prevents mold, mildew, and bacteria that attack flowers and greens and shorten their shelf life.
Incorporate Greenery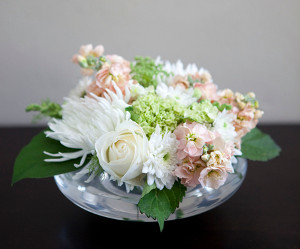 In "Fresh Flower Arranging" by DL Publishing, the authors recommend using seasonal foliage whenever possible, especially when working with expensive flowers like specialty roses or exotics like bird of paradise. Greenery provides a contrasting backdrop to highlight flowers, as shown in the Flawless Flower Arrangement right, and even add fragrance. Evergreens like pines and arborvitae lend a fresh, clean scent to florals, and herbs like mint and rosemary add pleasant green fragrances. Branches clipped from shrubs with interesting foliage traits such as red bark or variegated leaves add color and texture to arrangements.
Flower Arranging Tips
Cut flowers and leaves can transpire or lose moisture into the air, quickly. If you're ordering flowers from a delivery service, ensure your flowers will last longer by misting them with a water spray bottle and adding floral preservative to the water once they arrive. If you're arranging flowers yourself for bouquets, like the gorgeous Exotically Vibrant Bouquet below, or centerpieces, there are various things you can do to make flowers look nicer and last longer.
Place arrangements out of direct sunlight and away from heating and air conditioning vents to slow moisture loss.
If using flowers of one color, use different shades of the same color or interesting textures with leaves, twigs, and other materials for contrast.
Remove all leaves from stems that will be below the water line in the container to prevent rotting and bacteria.
If you have tightly closed flower buds, put their stems in warm water to get them to open.
Whether using store-bought flowers or freshly cut flowers and foliage from the yard or garden, clip the ends of stems off and put them in water as soon as you get them inside to arrange. This helps them take up more water to stay fresh longer and prevent wilting.
What is your favorite type of flower?