Baby, it's cold outside. Even though we know that you simply must go, we will do our best to help you keep warm nonetheless. The temperature outside is is going down and your heating bills inside are going up so you need to do everything you can to bundle up and stay warm during these winter months. Lucky for you, we have you covered. These great free fleece patterns not only make perfect gifts for all of your family and friends, but they are amazing  to help you keep hot when the the weather is cold. Come on in, take a seat, settle down, and enjoy these Amazing Free Fleece Patterns To Help You Stay Warm This Winter.
Fleece Headband Patterns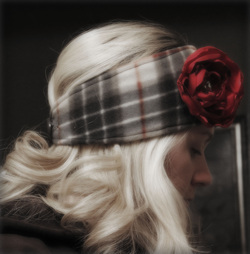 Angel Hickman Peterson from Fleece Fun has some amazing and wonderful suggestions to help keep your ears warm while also being extremely fashionable. If you are unaware of how to even sew a headband and have no idea where to begin then you're in luck. We have a step by step tutorial video to help get you started. Now that you have the basics covered it is time to become a professional. Sew an amazing Flapper-inspired headband and you'll become the talk of the town.
Fleece Scarf Patterns
Scarves are amazing aren't they? Scarves make for an awesome accessory because there are so many different types of brands and patterns. They are a great way to show off your personality and mood. As the winter season approaches, scarves are also just a great and practical way to keep yourself warm and cozy. Angel Hickman Peterson from Fleece Fun has you covered again with three amazing free fleece patterns. The first design is a Fleece Scarf with a Fur Pocket. Not only will your neck will nice and toasty but so will your hands. The next design is a Saturday Morning Scarf which is perfect for when you are lounging around the house during a lazy weekend. Lastly, we have a Parade Scarf for you. While this is perfect for watching the St. Patrick's Day Parade, it is also great to wear all winter long.
Fleece Blanket Patterns
I love fleece blankets. Personally, they are the only kind of blankets that I will sleep with.  They are so soft and so cozy that you can't help but wrap yourself in one and sleep away the week. Blankets are also an excellent way to to help keep yourself and those you care about warm. Maureen Wilson from Made By Marzipan has an excellent video tutorial to help you get started on how to sew a fleece blanket. After you're done learning the essentials, sew this great blanket from Craft Buds entitled The Happy Couple Blanket. This project is a great way for both you and your significant other to stay heated.
For more great fleece patterns visit 14 Free Fleece Patterns To Help Stay Warm This Winter.
What are your best tricks to help stay warm during the winter months? Tell us your answer in the comments below!