We loved talking crochet and knitting with these three amazing crafters on our December Radio Show! Thanks to all of their shared tips and tricks, we have collected a stash of great new ideas. From their favorite patterns to great last-minute holiday gifts, these knitters and crocheters had a ton of helpful advice to share.
You can listen to the archived edition right below!


Listen to internet radio with FaveCrafts on Blog Talk Radio
Michael Sellick
First we spoke with Michael Sellick from the Crochet Crowd. Mikey, as he is known on The Crochet Crowd, is an inspiring online crochet instructor. His YouTube channel has been seen by millions, and his continued enthusiasm for all things crochet inspires new yarn-lovers every day.
Hook and yarn recommendations: It's best to start off with the cheap stuff, in case you don't like it. I recommend the tulip crochet hook right now. Comfort grips and bamboo hooks are great because they don't steal your body heat like metal ones, so you can crochet longer.
Great last-minute Christmas gifts: Go for infinity cowls; they're quick and you can find a ton of great ideas on AllFreeCrochet.com!
About his new video series: The new series is all about how to follow patterns, which can be a real challenge. It helps to break it down to the basics from crochet diagrams to simply understanding the words. Sit down and read it aloud so you can understand the instructions.
Mikey's favorite patterns: I love Fingerless Gloves; they make perfect sense for us crocheters that are always on the go. I also love the Scarf Inside a Scarf, which is made up of two scarves, one of which is woven into the other.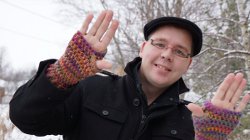 Coming soon on The Crochet Crowd: On the Hook Club, which starts January 15th, we will start a project with our crochet group and communicate on our progress. There will also be Mikey's Afghan Club, where we begin an afghan and work through it together
For more great ideas or videos from Michael, find him on The Crochet Crowd.
Vickie Howell
Next up we talked to the lovely Vickie Howell. Vickie is best known for hosting HGTV's show Knitty Gritty for 8 seasons; she was also the co-host of DIY Network's Stylelicious and myLifetime's CRAFTED series. She has also hosted several craft-based television specials and is the author of 7 craft books including her newest book, Step It Up Knits.
Beginner tips: It's great to start with a yarn that speaks to you, whether it is the color or the feel, and then find a corresponding hook and pattern that you love.
Know your time limits: If you don't have the time to start and finish a project that will take 60 hours, don't start it. You should feel successful when you crochet. Quick projects that take some skill are great because you will be sure to finish them, and they're rewarding.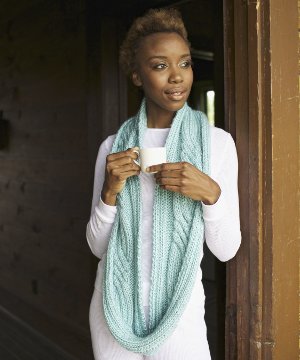 Tell us about your new book: It's full of quick, instant-gratification projects. These projects are designed to help you step your skills up to the next level. The wrist warmer and leg warmer projects are great and perfect for the colder seasons. Vickie also loves her Cable Ace Infinity Scarf; it's a lovely design that employs a very interesting technique.
How to keep your knits from curling: Do a couple of rows on the bordering edges to give it a foundation; this will help keep it from curling even though some patterns do naturally.
How to tell whether a different yarn will work with a design. You don't have to use the yarn listed in the pattern, but it has been attempted, so you have a guarantee it will work. If you want a different yarn, look at the fiber content and the gauge, and make a few stitches to see if it will come out the same.
For more great ideas from Vickie, check out her brand new book, Step It Up Knits!
Drew Emborsky
Last but absolutely not least, we got to chat with Drew Emborsky, The Crochet Dude. Drew has been featured in many national publications for his designs, written nine crafting books, and is the crochet expert on the hit PBS show Knit & Crochet Now!
How Drew became The Crochet Dude: I started to crochet for charity after the loss of my mother. As I crocheted to help others, it gave me comfort. That's about when I started the blog, and fans started calling me the crochet dude, which definitely stuck!
Drew's favorite things to crochet: I love to crochet purses, because they have to have structure and functionality. It's so great to make crochet do something you would think it couldn't, like fold over and stand on it's own.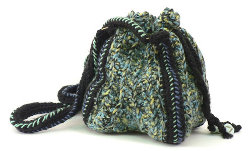 The best way to hide ends? Always leave a six inch tail, especially when you are changing colors. Weave them on very well and leave a longer tail than you would think, or else the project will fall apart.
All about Decades, Drew's new yarn line: The theme of the product line is decades. What I wanted to do is bring back colors that I love from the past that were discontinued. Currently, Drew has yarn inspired by the '50s, '60s, '70s, and '80s. There are 6 colors in each line, 1 multicolor and 5 solids.
For more great ideas from Drew, check him out on The Crochet Dude!
FaveCrafts Radio Giveaway!
Update – This contest is now closed.
Our lucky winner is Gwen W! Congrats Gwen! We hope you enjoy your prize and make something wonderful with it.
~~~~~~~~~~~~~~~~~~~~~~~~~~~~~~~~~~~~~~~~~~~~~~~~~~~~~~~~~~~~
Enter a comment below with one of the secret passwords of the day on the December radio show to be entered to win a fabulous prize. (We would also LOVE to hear what you think of the show!)
Win 3 Ergo Hooks, A Tunisian Afghan Hook, and a copy of Vickie Howell's new book, Step It Up Knits!
Contest Rules:
    Contest open to US and Canada residents 18+
    One comment/entry per person, must include the secret word from today's show in order to be eligible.
    Contest closes December 16, 2012 at 11:59p CST.
    Winners will be posted on this blog Monday, December 17th and notified by email
Follow FaveCrafts on Pinterest to find free craft tutorials, craft project ideas, videos!
Visit AllFreeCrochet.com and get your free eBook, Winter Wonderland: 17 Winter Patterns to Crochet.
Visit AllFreeChristmasCrafts.com and enter to win the Fiskars Fuse Creativity System!