What is the worst thing about quilting?
C'mon, everyone has that one step in the process that they just hate. And if you're like us here at FaveQuilts, it's pretty straightforward: cutting. It's such a tedious process that requires so much focus; unlike piecing, which you can do in a rhythm while listening to music and getting into the zone, cutting requires careful attention to detail—both because you want your squares or strips or triangles to be the right size and because you don't want to lose a finger.
Well, there's a solution: pre-cuts. Jelly rolls, charm packs, fat quarters … pre-cut fabrics either completely avoid or greatly reduce the amount of time you need to spend snipping and slicing on your cutting mat. Since we love pre-cuts so much, we decided to make a whole book out of them! In How to Make a Jelly Roll Quilt: 9 Jelly Roll Quilt Patterns, you will find some of our favorite jelly roll quilt tutorials from the site. These patterns range in size, shape, and purpose, but trust us, you'll love them all equally.
Let's take a peek at what's inside…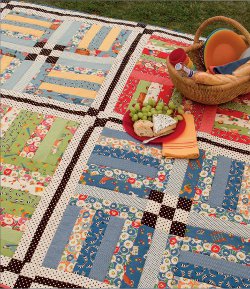 Summer Quilt Patterns
Some quilts are made for snuggling, and some quilts are made for celebrating! Jelly roll quilt patterns like the Rail Fence Picnic Quilt are perfect for picnics, roadtrips, and family reunions. Everybody loves being outside in the summer, but for those of us who are in charge of doing the family laundry, there's a lot to be said for a protective barrier between our butts and the grass.
Keep your pants stain-free and your food ant-protected with one of these gorgeous summer quilts!
Baby Quilt Tutorials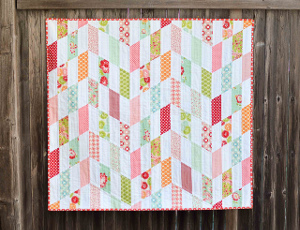 Baby quilt patterns are consistently among the most popular tutorials that we offer on FaveQuilts, and it's not hard to see why. Learning how to make a baby quilt in the span of one or two days makes for a serious increase in quilt production—and guarantees that not only will you never show up to a baby shower empty-handed, but your gift will always put all the others to shame.
The easy baby quilts that we chose for this book were picked especially because of how easy and fast they are. Patterns like the Striped Chevrons Baby Quilt are guaranteed to be fun and stress-free.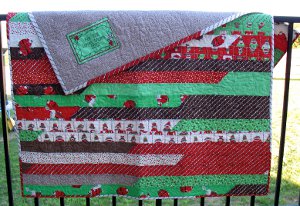 Quick and Easy Quilt Patterns
Of course, you can only make so many baby quilts before you start to go a little crazy, so add some variety to your To Do list with one of our easy-breezy lap and throw quilt patterns. These are easily the most versatile of quilt patterns, since you can use them for just about anything. They're big enough to keep you warm and comfortable on the couch in winter, but small enough to be packed up and taken along on a long trip or vacation. (Not to mention their excellence for building blanket forts.)
Still, even bigger projects like throw quilts shouldn't take you forever, which is why we've included awesome patterns like the Four Hour Lasagna Quilt, which you can make in time for dinner.
Download Your Copy!
If, somehow, all this wasn't enough to convince you, well, we have one more trick up our sleeve. Check out some of the gorgeous quilts in store with our sneak peak video:
So what are you waiting for? Download your free copy of How to Make a Jelly Roll Quilt: 9 Jelly Roll Quilt Patterns today, and get quilting!
What's your favorite style of pre-cut?