Bonjour, mon ami! If you know a bride who thinks Paris is the definition of romance, then we have ideas for a Parisian Bridal Shower that will make her feel like she's being swept away on a vespa ride through the city of love.
This bridal shower plan isn't as dramatic as the one in the movie "Bridesmaids" — there will be no giant cookies. However, there are plenty of pastels, sweets, and romantic lighting. Shower the bride will the glamor of Paris and she'll be feeling l'amour!
Let's go on a getaway to the most romantic city on earth. Let AllFreeHolidayCrafts.com be your tour guide as we help you plan the perfect Parisian bridal shower!
It's called the language of love…
Here's a printable list of French phrases the lucky couple can use on their honeymoon! Just right click to save and print.
…And now, for the

Parisian

planning!
First, you must make your decorations, which should be feminine, delicate, and decadent. Decorate with florals like these Pretty Paper Lanterns and French Twist Fabric Flowers. Use Pretty Paper Pomanders as centerpieces. Finally, make DIY Party Bags for Macarons; you'll need those for Step 2.
French Twist Fabric Flowers
Pretty Paper Pomanders
Pretty Paper Lanterns
DIY Party Bags for Macarons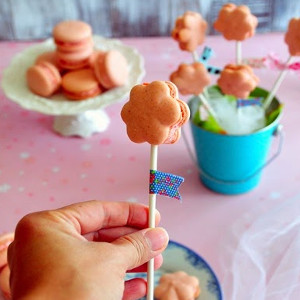 Bon appetit! Serve Midnight in Paris French Martinis alongside your main course, Blueberry Smoked Turkey Baguettes. For dessert, offer Floral Shower Cupcakes and Strawberry Macaron Flower Pops in the DIY Party Bags for Macarons from Step 1.
Strawberry Macaron Flower Pops
Floral Shower Cupcakes
Blueberry Smoked Turkey Baguette
Midnight in Paris French Martini
France is known for its high-end perfumes, so give the bridal shower guests some DIY Pretty Perfume Bottles filled with fragrance you mixed yourself. Learn How to Make Exfoliating Soap as well, and place it all in French Wedding Favor Bags as a luxuriant gift.
French Wedding Favor Bags
DIY Pretty Perfume Bottles
Mix Your Own Fragrance
How to Make Exfoliating Soap
Begin your Parisian bridal shower with an activity that doubles as wedding prep! Your guests can learn How to Arrange Rose Centerpieces, and you can choose the best arrangement to make again for your wedding reception. Play some fun games with this Wedding Mad Libs Printable and Shower Smash Book Game. For more bridal shower games, check out this list from Life on the Homestead.
How to Arrange Rose Centerpieces
Wedding Mad Libs Printable
Shower Smash Book Game
Printable Bridal Shower Games
What makes Paris so romantic?