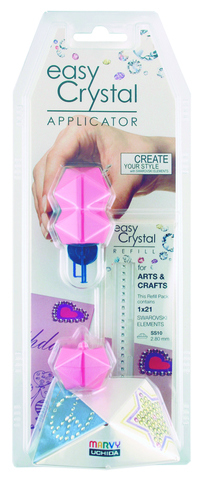 Do you love bling? I love bling. Rhinestones everywhere! That's why I'm absolutely in love with the Marvy Uchida Easy Crystal Applicator. It's the perfect way to bling out just about anything!
Whether you want to freshen up your handmade cards, party invitations, or scrapbook layouts and decorations, this handheld tool makes it easy to add bling to your paper crafts. Give your projects an instant makeover with the Swarovski crystals that come with this applicator. Though they are only 3/16 inches wide, these embellishments feature Swarovski's trademark shine. Small elements work well for monograms and detailed designs like flowers and stars. Every applicator set includes a refill strip with 21 crystals, so bring on the bling! Marvy Uchida carries a selection of gorgeous colors including aurore boreale, amethyst, citrine, crystal, emerald, jet black, rose, sapphire.
Know what else is exciting? We're giving away the Marvy Uchida Easy Crystal Applicator to one lucky winner! Don't miss your chance!
What would you #BlingOutWithMarvy?
Enter to win a Marvy Uchida Easy Crystal Applicator! This tool makes it super easy to add a bit of sparkle to all of your paper crafts. The deadline to enter is April 24, 2015 at 11:59:59 p.m. Eastern time. Good luck!