Ah, spring cleaning. Every year it is a giant production that uses up weekends of healthy energy. You spend so much time organizing your life during these spring months just to end up right back where you started one year later. Don't be discouraged! Instead, craft one of these easy sewing projects to keep your home organized! Say hello to warm weather with these spring cleaning ideas.
Get started by sewing a protective Adjustable Apron or one of these other 27 Free Patterns for Aprons. Follow this checklist for successful Spring Cleaning 2014.
Spring Cleaning Checklist
1. Take Out the Trash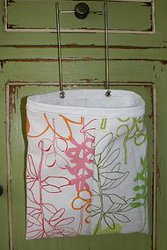 Let's be real: the majority of spring cleaning involves throwing out all of that stuff you really don't need. Say goodbye to those hoarder-like tendencies with the freeing action of throwing things away. While you're at it, sew up an excellent new trash bag for disposing your junk in style. Try out the Hanging Trash Bag for a convenient solution. This trash bag is waiting at your side, ready for you to toss stuff into it. Another great option is the 20 Minute Clothespin Bag. Transform a plain old clothespin bag into a simple trash receptacle that's surprisingly cute and practical.
2. Get Organized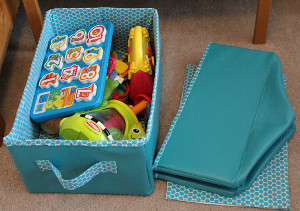 With the remaining items you keep, be sure to organize your home so the clutter doesn't build like last year! Since we at AllFreeSewing have about a million sewing patterns for organization, I'll go ahead an list just a few of our best:
1. Make a Bedside Organizer
2. Life Saving Collapsible Bin
3. Door Organizer
4. 8 Awesome DIY Organizers: Sewing Organizer Tutorials eBook
3. Dust Shelves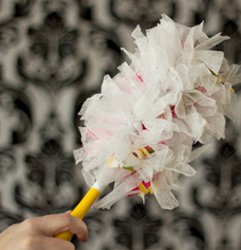 No house is truly clean if there is any lingering dust! Send those dust bunnies on their way with your very own DIY Washable Duster. This project is easy to make and perfect for spring. Don't throw away this duster when you've finished using it! Wash it and reuse it for a green solution to your spring cleaning.
For another great duster that can be used over and over, check out the tutorial for these Reusable Swiffer Duster Cloths. This is the perfect way to use up your scrap flannel. Clean out your fabric scraps from your stash and create a new cleaning supply in the process.
4. Clean Floors
There's no use in tidying up your space if your floors remain grimy. Make your own Washable Flip Mop Pads for your favorite floor duster. Instead of purchasing disposable pads for your flip mop, make your own for a fraction of the price. You'll save money by washing these flip pads rather than throwing them out and buying new ones.
You can also upcycle some old socks to make another variation! The Reusable Swiffer Sweeper is a marvelous way to repurpose a pair of socks that you won't wear again.
5. Don't Forget the Car!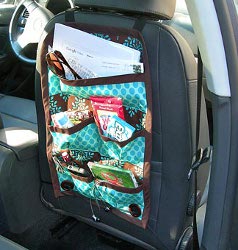 Let's not forget the space that serves as your second home! Spring cleaning doesn't just involved cleaning out your house. Be sure to tidy up the family car, too! Organize your car with a few of these easy sewing projects. Make the Car Caddy for all of your on-the-go crafting supplies. Crafting a is a great way to stay occupied on long road trips, and this is a way to keep those crafting supplies organized! Be sure to keep those road trip snacks organized as well with the Cool Car Caddy Straps On To Headrest.
What is the messiest room in your house?