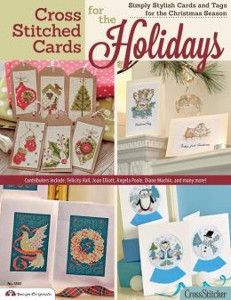 If you love sending cards for special occasions and you love cross stitch, these two craft books are perfect for you. With Cross-Stitch Cards for Special Occasions, you can make personalized birthday cards, holiday cards, and more. Christmas is an occasion that calls for card creativity and With Cross-Stitched Cards for the Holidays, you can make as many holiday cards as you need. Every occasion should be celebrated with one of these free cross stitch patterns.
Cross-Stitch Cards for Special Occasions has step-by-step directions to help you make the perfect card, whether it's for telling someone how much you love them, or sending a special thank you. With simple instructions and impressive results, you'll be amazed at how easy it is to make your own cards,
Don't get sucked into the shelves upon shelves of Christmas cards at the grocery store. With Cross-Stitched Cards for the Holidays, your Christmas cards will be very original and super sentimental. These handmade cards are perfect for those cold winter days when you're stuck inside the house. With these cross stitched cards, you'll be hoping for a blizzard. You'll find as much joy in making these cards as your loved ones find in receiving them. With cards that feature angels, penguins, cakes, mittens and more, these Cross-Stitch Cards really spread warm cheer. These two craft books are a must for this upcoming holiday season. If you enter to win Cross-Stitch Cards, you'll be the star of sending cards!
AllFreeHolidayCrafts.com is giving away two copies of  Cross-Stitch Cards to one lucky winner. You could win!
Learn more and enter to win here.