When falls comes around, the editors at FaveQuilts just can't help but dream of curling up in some cozy patchwork quilt patterns. They're perfect for this time of year, not only because of how warm and comforting they are, but also because of how easy and versatile the patterns are. Get started with one of these today, and you'll be able to share a special new patchwork pattern with your family before October ends. Here are some of the most popular ways quilters are making patchwork quilts this season:
Patchwork Baby Quilt Patterns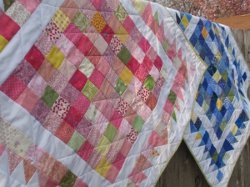 What could be more special for a baby born in the fall than a beautiful patchwork quilt made especially for them? The patchwork design's flexibility will really come in handy here; you can easily use your own color scheme within any of these patterns and still get lovely results. Patchwork quilts also provide plenty of options for variations, so you can get creative with the way you quilt your squares. Any soon-to-be parents will be so grateful to receive this kind of personalized gift, and the blend of comfort and casual design will guarantee that this quilt will be in use for years to come.
Bed Quilt Covers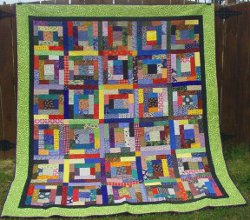 Fall weather can be very unpredictable, but you don't have to worry about catching a chill if you use your patchwork quilting skills to make a brand new cover for your bed. Home decor can be very expensive, but you can expect to save a lot of money with these brilliant patterns that encourage the use of scrappy quilt leftovers. This is the perfect opportunity to play with your favorite geometric shapes and give your room a whole new look.
Small Patchwork Quilt Projects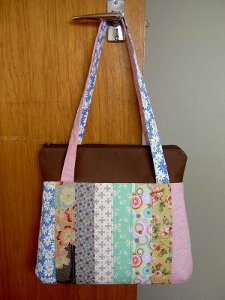 Short on time? No problem, because patchwork quilting covers more than just full-sized patterns. If you simply need a way to give your home a bit of a rustic touch or make something special for someone else, there are plenty of cute ways to use your patchwork.
More Popular Patchwork Patterns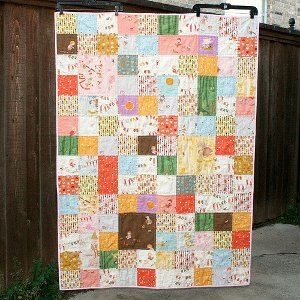 You don't even need a specific reason to enjoy the classic country charm of a patchwork quilt. Many of the most popular free quilt patterns involving patchwork can be made for any occasion. You'll learn some from variations, see how you can complement colors, and personalize your pattern for someone special.
There's still plenty of time to start a patchwork quilt pattern, and if you're in need of ideas, you should enter to win a copy of At Home with Country Quilts: 13 Patchwork Patterns. Submit your entry by October 29th!
 What's your favorite use for patchwork?