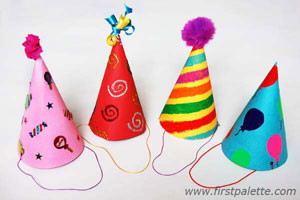 As you get older, birthdays seem to get less and less exciting. So, in honor of my what-will-be-an-almost nonexistent birthday on Wednesday, I will reminisce on the days of yore when birthdays were thrilling. When you're young, everyone's birthday is exhilarating: your own, your Mom's, your friends', even a stranger's. Let's keep that spirit alive with fun birthday ideas, homemade birthday gifts, birthday craft ideas, and more.
Heck, let's even bring the fun back to adult birthday celebrations. Craft with your kids on your birthday, and you'll see the magic of celebration settle right back in. Throw on a party hat, eat some cake, and smile at the memories you're making.
Ya know, after browsing through this list, my birthday may not be so lame after all. Instead of partying like it's 1999, on our birthdays let's party like we're 10!
Fun Birthday Ideas
For a fun birthday, fun decorations, invitations, and food are a must. Make the cake as original as can be with fun cake and cupcake ideas that reflect your personality and passions. If you're a big camper, make Campfire Cupcakes, and if you can't get enough of yummy burgers, shock your guests with an amazing Cheeseburger Cake.
Homemade Birthday Gifts
You can spend $30 every time your little one has to go to a birthday party or you can start making homemade birthday gifts that will wow the recipients. Personalize the gifts you're giving by crafting something to go with your store-bought toy. Because you'll now have more than one aspect to your gift, your purchased present can be less expensive. If you have an out-of-town relative or close friend, craft a You've Got Mail Pinata  with your kiddos and send it on over to make someone's day.
Birthday Craft Ideas
Whether it's your birthday or someone else's, make sure it's extra special by creating some of these birthday craft ideas. Nothing means more than a heartfelt card made with effort and love, and that's an important lesson to instill in kids. To ensure that your kiddo's birthday is the best one yet, hand him a can of shaving cream to decorate his very own cake or help him make adorable Poppin' Balloon Snacks.
Which birthday was your most memorable?