You have a tote and a purse for every occasion. You have your extra big tote for when you take your kids to the beach and you have a smaller one for your gym excursions. You also have a purse for when you're going out on the town with your friends and you have another one for when you are going to your local pizza place with your family. If there was a pattern for one bag that you could take everywhere you went we would offer it to you immediately. Unfortunately, no such pattern exists. However, we have the next best thing for you: An amazing array of patterns for you to choose from for every circumstance you can think of. AllFreeSewing has a new eBook out entitled: 12 Beautiful Tote Purse Patterns eBook. This has many great and useful patterns that deal with all things that are hand bag related. Best of all, this is absolutely free to download.
We made this eBook with every type of woman in mind. From stay-at-home mothers to those women who work 80 hours a week, we have it all. If you can't find something that interests you in this eBook then you aren't looking hard enough. Within the pages of this amazing document are 12 incredible ideas from purses to totes to clutches to hand bag organizers. We have everything that you could need when it comes to making your own hand bag. If you don't believe us then enjoy a sneak peak of some amazing patterns you can find in this 12 Beautiful Tote Purse Patterns eBook.
Decorative T-Shirt Tote Bag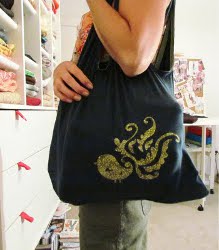 We know you have have a pile of old T-shirts laying around somewhere. All they are doing is collecting dust but you're convinced you'll have a use for them one day. Well, here is that "one day". Turn an old (or new if you so choose) T-shirt you have into a fun and adorable tote bag that you bring around with you where ever you go.
DIY Fancy Lace Clutch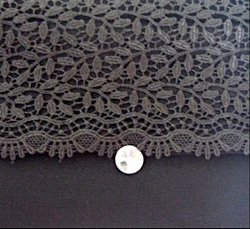 This Fancy Lace Clutch is perfect for when you go out on a special occasion. It practically goes with everything (including that Little Black Dress you own) and it is extremely easy to make. We guarantee this will be your newest fashion accessory.
Basic Purse Organizer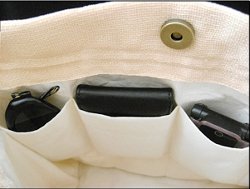 How many times have you went digging through your cluttered purse trying to find a check book that turns up at the very bottom of the bag? Or you hear your cell phone ringing but since you can't find it in your bag, you just end up dumping the contents onto a table to find what your are looking for? It's OK, you don't have to admit it, but we know it's happened to you. That is why we have the perfect solution for you. This Basic Purse Organizer is simple to make and will make your life a lot easier.
Download a copy of 12 Beautiful Tote Purse Patterns eBook right now!
What is your favorite type of handbag: tote, purse, clutch, or other?
Latest posts by AllFreeSewing
(see all)