If you are a sewist then you know that having an awesome pincushion is a staple. We all have lost a needle or two (or ten) so finding the perfect pin cushion is a must. The best solution to finding the perfect pin cushion is to just sew one yourself! We have assembled a collection of not only the most practical pincushions to sew but also some of the cutest. We have super cute and simple pin cushions for those just starting to sew (or those who have never sewn before and are looking for a project to start) to pincushions with crazy and fun designs like animals or cupcakes. No matter what you are into or what you like, we have the perfect pincushion for you.
Zombies, Cupcakes, and Turtles Pin Cushions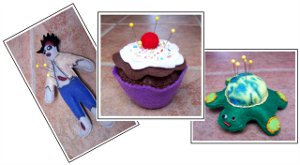 What does the living dead, a delicious dessert, and a cute sea creature have in common? The answer is that you can find a pincushion pattern to sew them all in one place. Art Threads has compiled a list of some of her favorite pin cushion patterns to sew and you can find the perfect one that fits your personality. Since I am a huge fan of the TV show The Walking Dead, the zombie pincushion is perfect for me. But if scary creatures are not up your alley, then I'm sure the turtle or cupcake pattern is perfect for you (I know I would hate the cupcake pincushion because every time I sew I would get hungry!)
Animal Pin Cushions
These pin cushion patterns are very simple to make and are some of the most darling things. Prudent Baby has created probably the single cutest pin cushion I have ever seen with their porcupine design. I love the fact that the needles are the porcupine's quills. If the porcupine design is the best thing ever, then this Bitty Bug pattern is a very close second.
Wrist Watch and Ring Pin Cushions
These free pin cushion patterns are perfect for every sewist. These pincushions act like a piece of jewelry so they stay with you no matter where or when you sew. Lucykate Crafts came up with the amazing wrist watch pincushion idea. This precious design allows you move from place to place without losing all of your pins. My Little Nook came up with the clever design for the ring pincushion. It is extremely easy to make and will work wonders for your future sewing projects.
 Egg Pin Cushions
The Sometimes Crafter came up with this Egg Cup Pincushion which not only requires sewing but also requires flexing your crafting muscles as well. Lastly, we have the Over(ly) Easy Pincushion from Speckless. The name of this project matches the project itself: super cute and fun!
If you could pick one thing to turn in to a pin cushion pattern, what would that one thing be?
Latest posts by AllFreeSewing
(see all)