Every quilter has their go-to patterns that they know will look good with practically any of their fabrics. One trend that the editors at FaveQuilts have been noticing is star quilt patterns. What makes star quilts so amazing is that they don't just come in one shape or size, making them adaptable to both full patterns and smaller projects. We want to help our readers add some real pizzazz to their next pattern, which is why we've made the new Spectacular Quilt Star Patterns: How to Make a Quilt with 8 Star Quilt Block Patterns and Quilted Star Designs eBook.
You'll find a great mix of quilt star patterns in here. There are small star quilt patterns meant to add that little something extra to your basic home decor patterns. Our star quilt block patterns will make working with fabric scraps and die cuts a real pleasure, and you're going to want to add at least one of these quilted star designs to your next quilt. Lastly, we've included a mix of different full-sized star quilt patterns that will not only make gorgeous throws, but also impressive quilted wallhangings, bed quilt patterns, and even adorable baby quilts. The patterns in our eBook are accessible to all skill levels, so there are plenty of opportunities to learn something new and challenge yourself while making something truly special.
What you'll find in this eBook: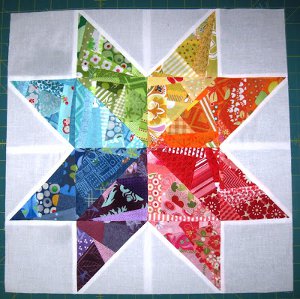 Scrappy Rainbow Star Quilt Block – One of the most popular projects on our site is also in our eBook! If you're a fan of scrap quilt patterns or you just need to empty out your box of fabric scraps, this is the star quilt pattern for you. The tutorial shows you how you can easily piece together the classic Lone Star quilt block pattern using a rainbow of colors. You can easily design a quilt star pattern using your favorite color scheme and fabric collection for your latest quilt.
Adaptable Star Quilt – Curl up and get cozy under this charming star quilt pattern that's been another huge hit with readers on our site. It's simple to put together, and the charts included in our eBook will give you an easy idea of how you can adapt the quilted star design into a bed quilt, a lap-sized quilt, or whatever else you'd like.

Download a copy of Spectacular Quilt Star Patterns: How to Make a Quilt with 8 Star Quilt Block Patterns and Quilted Star Designs – It's free!
If you like this eBook, you'll love:
Latest posts by FaveQuilts
(see all)