I know what you're thinking: spring? FaveQuilts, it's January. We're still huddled in our snuggies drinking hot chocolate. We know, we know. But flowers are going to start blooming before you know it. It's never too early to bring a fresh breath of spring into your sewing room. We've gone through all our tutorials and picked out some of our favorite designs to get you ahead of the season. Let these beautiful floral and springtime patterns keep you smelling the roses while everyone else slogs through feet of snow!

Dining Room Decor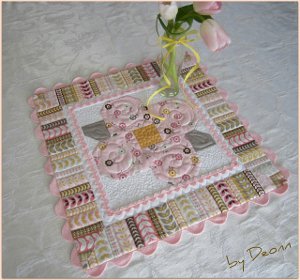 Springtime comes to the table before it shows up anywhere else. This Pretty Pink Posy Topper is so elegant and simple, but can completely change the feel of a room. Freshen up those flowers in their vase and bring a little bit of sunlight to mealtimes with these beautiful table toppers and kitchen accessories.
1. Spring Morning Mug Rug
2. Spring Table Topper
3. April Showers Mug Rug
4. Flower and Butterfly Mug Rug
5. Spring Chicks Table Runner
6. Spring Placemats
7. Blossom and Bloom Table Topper
8. Walking on Sunshine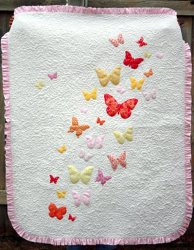 Baby Quilts 
Spring babies are on the way! Welcome children, grandchildren, nieces and nephews with a beautiful baby quilt. Every new addition to the family ought to have their own little special blanket like this Butterflies a Flutter Baby Quilt Pattern that will keep them warm and cozy through long nights in the crib.
1. Applique Butterfly Garden
2. Shabby Spring Baby Rag Quilt
3. Easy Watercolor Quilt
4. Quilted Butterfly Bunting
5. Kite Applique Block
Find the warmth of a beautiful spring day underneath these gorgeous throw blankets and lap quilts. Blankets like this Flutterby Butterfly Garden Quilt are such gorgeous blankets that will transform any couch, bedroom, or La-Z-Boy with their bright, cheerful colors.
1. Groves of Gardens Nine Patch Quilt
2. Springtime Diamond Lattice and Diamond Extra Quilts
3. Fields of Tulips Quilt
4. Funky Wonderland Quilt
5. Love Blossoms Again Quilt Block
6. Flutter and Flowers Springtime Quilt
7. Rainy Days Block Quilt
8. Garden Spikes
What are you most looking forward to about spring?
Latest posts by FaveQuilts
(see all)