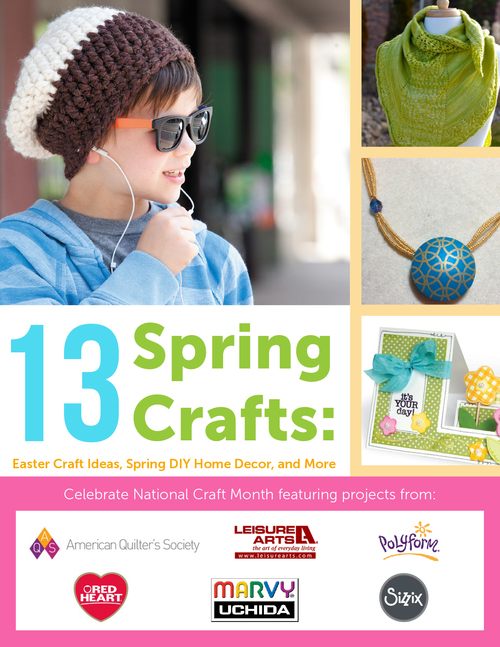 It's FINALLY starting to not be horribly cold outside and I'm just itching for spring to be officially here. To me, spring means putting away my boots, packing up my winter coats, and sunshine! Glorious sunshine. Winter is just so gray and sunshine just makes life better.
You know what also makes life better? Crafting. Crafting + Spring? The perfect combination for an instant pick-me-up.
That's why for National Craft Month this year we worked with some of our favorite brands and bloggers to put together the 13 Spring Crafts: Easter Craft Ideas, Spring DIY Home Decor, and More free eBook. What I love about this book is that it has something for everyone. There's a knit shawl pattern for the knitters, a crochet beanie for the crocheters, and a paper pinwheel wreath for the paper crafters, for example. Perhaps you're even a triple threat and craft in all three of the areas! Plus there are even more types of crafts in this book and you'll just have to download your free copy to see for yourself!
Did you know that to celebrate National Craft Month and the beginning of spring we also have giveaways going on ALL month long? Yup, you read that right! Check them all out here
March 11th through March 12th: AQS Gift Card
March 13th through March 14th: MD Hobby and Craft Bundle
March 16th through March 17th: Marvy Uchida Easy Crystal Applicator
March 18th through March 19th: Sizzix eclips2 DIY Electric Cutter Starter Kit
March 20th through March 21st: iLovetoCreate Color Craze Assortment
March 23rd through March 24th: Red Heart Boutique Unforgettable Skeins
March 25th through March 26th: Painter's Paradise Collection
March 27th through March 28th: Little B Fancy Finishes Kit
March 30th through March 31st: Red Heart Yarn Assortment
Which craft has the tendency to make your life instantly better?
Latest posts by FaveCraftsBlog
(see all)