For some of you, spring cleaning may be the most exciting time of the year. For others, myself included, it's a terrifying confrontation with a year's worth of junk. For the benefit of crafters and cleaners alike, here are some projects from AllFreeSewing that should serve as home cleaning remedies. Whether you need to organize your house or evict pounds of dust from it, these craft organization ideas should make your journey to spring cleanliness easier. Look around you and admit that some extra ideas for home organization couldn't hurt. You know that once you effectively master the mess in your home, you can enjoy a guilt-free spring. Ready for some ideas? Here they are:
Do-it-Yourself-Cleaning
Try out homemade cleaning remedies from AllFreeSewing like this these Washable Flip Mop Pads. There are tons of ways to make your own cleaning supplies. If you're wondering how to remove dust from your home, these DIY Microfiber Cleaning Slippers from Housing a Forest are also a creative way to do it.
I also love this DIY Washable Duster.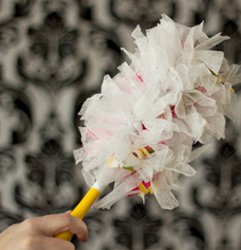 One: because it looks cool. Two: because you can actually reuse this DIY duster instead of throwing it away after every use. It lets you spring clean and be green!
Crafting Organization Systems
Closet cleaning is one of the worst kinds. It's common knowledge that the closet is the real trash can of a room. Like a black hole it swallows an enormous amount stuff, unbeknownst to you. The problem is you can live without most of the items in your closet, but you choose to keep them. This spring is a time to enforce some organization systems into your closet. This Hanging Jewelry Organizer, for example, will keep your jewelry neatly in one place. Learn how to sew pockets to fit every kind of accessory you have. This Mail Organizer is also a clever closet cleaning DIY organizer.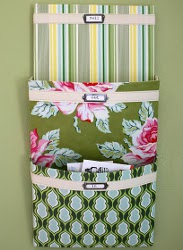 I found this awesome Pretty Painted Pegboard from Sew Fearless. If you're an avid crafter, this project may be worth the work. The weather is heating up so you can make this in your garage and really enjoy spring cleaning!
Organizational Tips for the Neglected Car
Unfortunately, you may have noticed that your accumulated junk doesn't only stay in your house. If you're ever embarrassed to have someone in your car, you know what I mean. A friend slides into the front seat to meet a pile of papers, an ice scraper (even though the snow melted a month ago), a pair of shoes, a sandwich, a roll of toilet paper- these items might be different in your car.
Try enforcing similar organization systems in your car that you use in your home. For example, this Car Caddy is a sewing project for intermediate-level seamstresses who need a place to put the items in their car. Making car caddies like this one will also teach you how to sew pockets. It's learning a sewing technique and getting organized at the same time.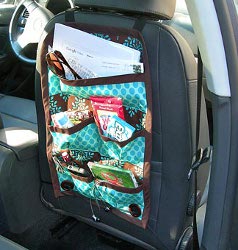 In my search for cleaning solutions to the car I also came across this excellent DIY sewing project. The Hanging Trash Bag will serve its purpose dutifully in your vehicle. You always need a place to put greasy take-out containers, napkins or baby diapers on the road. What's great about this trash bag is it doesn't even look like a garbage can; it's actually pretty.
Do you have any spring cleaning tips?
Latest posts by AllFreeSewing
(see all)