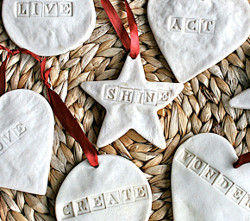 The best Christmas crafts for kids are ones that bring the whole family together. That's why salt dough crafts are perfect for the holidays; they're inexpensive and easy for everyone to enjoy. One of my favorite holiday memories was making star-shaped salt dough ornaments and coloring them with my cousins, and that ornament remains one of my favorites today.
These easy Christmas crafts from AllFreeKidsCrafts and AllFreeChristmasCrafts will give you hours of holiday cheer. You and your family can spend an entire evening creating these simple Christmas crafts and singing along to your favorite holiday tunes. When you pull out these salt dough ornaments and decorations every year for Christmas, you'll be reminded of the fun, special time you shared with your family while you made your salt dough Christmas creations.
Ready to get crafting? Start with the salt dough recipe from FaveCrafts shown below! (Psst: there are two salt dough ornaments you haven't seen before hidden in this list! See if you can find them!)
How to Make Salt Dough
Materials:
 2 cups all-purpose flour
1 cup salt
3/4 cup water
Food coloring (optional)
Mixing bowl
Instructions:
Mix together salt, flour, and water in a large mixing bowl.
Knead until mixture reaches a doughy consistency and add food coloring if desired. Use immediately or store in an airtight container for later use.
Shape salt dough according to the salt dough craft instructions and bake until hard. Baking times for each craft tutorial may vary, but a good rule is to bake salt dough ornaments at a low heat for a few hours. Example: bake at 175 degrees Farenheit for 4 hours, turning ornaments every 30 minutes.
When the salt dough is cool, start decorating!
Stunning Salt Dough Ornaments
Ornaments are already fun Christmas crafts for kids, but salt dough ornaments are simply the best. There are so many different salt dough shapes you can make, and they look great on every Christmas tree! You can even give salt dough ornaments as homemade Christmas gifts for grandparents or other relatives.
Salt Dough Christmas Crafts for Kids
Salt dough isn't just for ornaments! You can create Christmas decorations you'll cherish for years, or you can spiff up your gift wrapping with salt dough gift tags. These salt dough crafts look best with lots of color, so you'll have a blast putting your own creative spin on these projects.
Have you ever crafted with salt dough? What did you make?
Latest posts by AllFreeKidsCrafts
(see all)