Valentine's Day is fast approaching. What inspires you about Valentine's Day? Is it the love in the air? The romantic cards? The boxes of chocolate? How about simply the color red? Red is a staple color of  the Valentine's Day holiday season, which means that it is all over this time of year. Whether you like Valentine's Day or not, you can be inspired by this bold and fun color.
There are tons of red jewelry projects out this time of year. To help you find the perfect piece, we at AllFreeJewelryMaking have compiled a list of some of our favorite red projects. Find the right project for you in this crimson hue with these 5 DIY projects.
Five Red DIY Jewelry Projects
In the season where roses are red and violets are blue, you need to find the perfect homemade bracelet for you. That is where this Red and Gold Crystal Weave Bracelet comes in. You cannot beat its combination of tiny bold red crystals with bunches of gold seed beads. Still, if you are looking for a more regal piece, you can try this Rich Red Satin Bead Bracelet.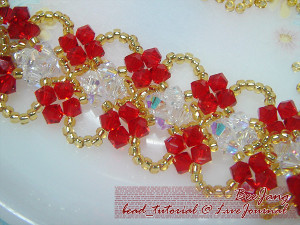 While a classic bracelet is an simple way to add a splash of color to any ensemble, the easiest way is with a pair of DIY earrings. You cannot get much simpler than these 3-Minute Red Bead Earrings. Even if you are a novice jewelry maker, these easy-to-make earrings are a stellar way to add a little color to any outfit.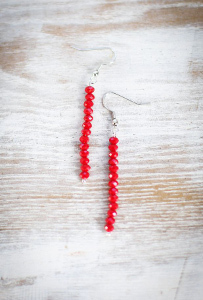 Adding just a little bit of color is great, but maybe you want to go for a bolder look. If this is case, then a big statement necklace is probably more your style. Make a striking piece of DIY jewelry with this Lady in the Red Necklace.
Sometimes one piece of jewelry is not enough. Complete a matching jewelry set with a luscious berry color. This gorgeous Red Jade Bracelet and Earrings Set adds a pop of red to any outfit.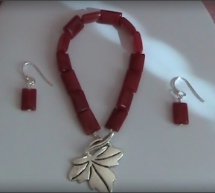 All of these DIY jewelry projects are great ways to incorporate red into your collection this season. So enjoy this fabulous pop of color this winter and start crafting these fun jewelry pieces. If you are interested in more red homemade jewelry, check out AllFreeJewelryMaking.com.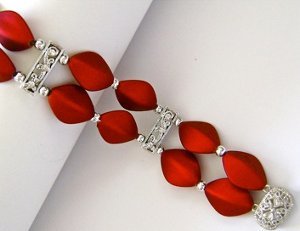 Where have you seen red jewelry this season?
Latest posts by AllFreeJewelryMaking
(see all)