Print This Post
If you're like me, you're always looking for ways to recycle what's already in your home to make all new Christmas crafts. Recently, the editors at AllFreeChristmasCrafts have discovered a cool trend that you probably already have the materials for in your home. If you're a lover of wine or taking refreshments on the go, chances are you have some sort of bottle lying around. Now you don't have to get rid of it right away, because we've put together 19 Ways to Craft with Bottle Parts, a collection full of different crafts that use everything right down to the cork.
The crafts included in 19 Ways to Crafts with Bottle Parts are all about showing you how to be more eco-friendly with your crafting. These projects can be as simple as cutting and pasting, but the results are always impressive. You could decorate your whole house with these recycling crafts. Get the whole family involved so they can see how fun recycling can be too.
Wine is an elegant part of a Christmas meal, and now you can use wine bottles to create elegant Christmas decorations. Refashioning projects are popular right now, so these bottle crafts are the perfect way to start bringing new life into old recyclables. You're sure to find at least one technique that you'll want to use to impress your party guests this year.These also make thoughtful thank-you gifts for the host or hostess of the next Christmas party you'll be attending.
Glass bottles aren't the only items you can use to make decorative bottle craft ornaments. Plastic and cork in particular are two very versatile materials that can be transformed into everything from Christmas characters to intricate, one-of-a-kind snowflakes. Handmade Christmas ornaments are always a fun way to personalize your tree.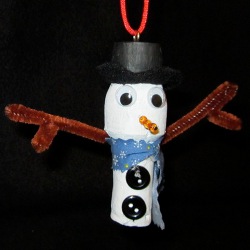 If you really want to show off your DIY prowess, make your own Christmas fashion jewelry. You'll be in the spotlight on Christmas for your thrifty crafting abilities, as well as your unique sense of style. All of your friends will be begging you to help them be crafty with their bottles too. Say bye bye to department store prices!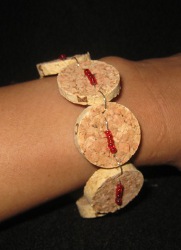 Tabletop trees are fun additions to any room, and with the projects in our collection, you'll be able to make your own bottle craft trees. Depending on the types of materials you have, you can go for something simple or something totally bold and different. Either way, it's guaranteed that no one else will have a tree like yours. Many of these crafting techniques are ones you'll want to use for your home decor crafts during other parts of the year as well.
Already gathering bottles in excitement? Then be sure to head over to our site for the rest of the projects included in 19 Ways to Craft with Bottle Parts. Not only will your decor pop, but you'll have found ways to decorate your entire home without spending more than a few dollars.
What crafts help you save money on Christmas?
AllFreeChristmasCrafts.com is a website dedicated to the best free Christmas crafts, tutorials, tips and articles on Christmas. AllFreeChristmasCrafts finds and delivers the best Christmas crafts from all over the web, from Christmas ornament crafts to Christmas craft for kids. We want you to have the Christmas of your dreams.
Latest posts by AllFreeChristmasCrafts (see all)
Print This Post