Today's trend report is a guest post by Suzann Smolarek from Quiltworks. Let's see what Suzann has to tell us about quilting trends this year!
Quilting Trends: What's New for 2013?
It's been the most wonderful – and the busiest – time of the year for a quilter!  You've probably spent the holiday season enjoying the chance to see some of your seasonal quilted projects from years past around your home. Maybe you even added to your collection of handmade holiday season treasures with a new quilting project like a wall hanging, a stocking or a tree skirt for you or a friend. Many quilters use the holiday season as a time to get together with friends or family members and quilt together. Maybe you even spent time helping a child or grandchild discover a love for quilting.
Since we're moving into 2013, it's time to put the rush of the holidays behind and look ahead to new beginnings. And that includes seeing what new trends for quilting will be appearing in patterns and materials throughout the new year.
Quilting Trends – Quilted Accessories Continue To Be HOT!
 It might be the economy or some of the uncertainty of the times, but handmade accessories continue to be rising in popularity.  Pinterest also plays a part as people are able to share favorite quilt fabrics, patterns and accessories easier than ever and with people they've never even met.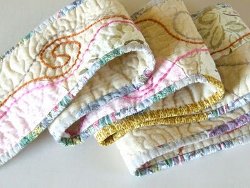 Another economical aspect of quilted accessories is that they offer a quilter the chance to use small, left over scraps of favorite fabrics they might have left from larger quilting projects. Whether you have remnants of charm packs or fat quarter bundles, or simply an odd amount of fabric left on the bolt, the strong trend of quilted accessories is a fantastic way of making sure that every scrap is used.  And the sky is the limit when it comes to the kinds of accessories that can be made by quilting fabric.  Really, the ability to use every last scrap means that you can create something as modern as a cell phone case that even your grandmother would be proud to use.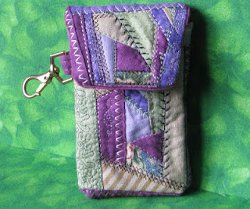 Quilted accessories come in all varieties. There will always be those who enjoy quilted vests, for instance. Or perhaps one of the newest patterns of quilted purse is more your style. The range of handles available continues to grow, making quilted tote bags an amazing choice for a fashion conscious quilter!  And the wide range of quilt fabrics that can be used in such a project really can suit every taste in terms of quilting fabric colors and patterns.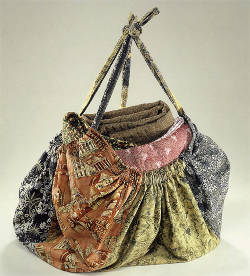 What's Old Is New In Quilt Fabric Patterns
 Quilting trends for the new year often embrace perspective of past fabrics and quilt designs, while at the same time showcasing new developments in thread, new kinds of fabric designs and ever evolving quilting techniques and technology.
For 2013, both vintage quilt trends and emerging designs have a role in the newest bolts of fabric from all of your favorite fabric suppliers. For instance, more traditional motifs and patterns of fabric continue to be strong, stable sellers across the nation. At the same time, more modern prints and vibrant colors, not to mention solid colors and even silks are retaining their popularity among quilting enthusiasts.
Trending Quilting Embellishments
 And then there are the embellishments. Once upon a time, the most common quilt embellishments were simple buttons saved from a worn out garment or perhaps embroidery thread knotted and cut to look like tassels.
Today's quilt embellishment trends offer a dazzling array of colors, textures, and styles for any fashion style. Rickrack, ribbons, and pompoms in hues ranging from muted pastels to vibrant hues will be adorning many projects from 2013's top quilt pattern developers.
Quilting Technology – Where Past Meets Future
The trend of using technology to assist in the actual quilting of projects isn't going away any time soon. In all honesty, the efficiency of machine quilting (not to mention the ever growing array of designs available, especially in computerized quilting) has opened up the world of quilting to a wider audience. The trend of machine quilting continues to gain acceptance by long-time quilters. Not to mention the simple fact that even those who spend a great deal of time outside the home can also enjoy quilting (and actually finish a project) because of advances in machine and computerized quilting technology.
Quilting Trends for Fabric – These Aren't Your Grandma's Fabrics!
One of the most fun trends in quilting, believe it or not, is something as simple as fabric design – and the names for the bold and innovative fabrics coming out. And sometimes, the power of a fabric's name alone can catch someone's attention, not to mention fabric colors and designs they might not have known existed.  Designs with bold, crisp geometry and vibrant spring-filled tones are emerging quilt fabric trends. And with fabric names such as Mango Tango, these fabrics are definitely meant to make a statement!  Quilting isn't just about your grandmother's country calicos anymore!
Trends that are expanding for 2013 include careful attention paid to fabric sources and wholesale fabric manufacturing processes. Sustainability makes its mark on the world of quilting as more fabric suppliers seek to carry bolts of quilting fabric with labels attesting to their organic content and sustainable harvesting and manufacturing processes. Organic batting, too, continues to be a popular product, especially in crib-size batting.
The world of quilting is alive and well!  Quilting trends for 2013 clearly show that it is a hobby with an ever widening audience ready to enjoy this traditional art – with modern twists – well into the future.
About the Author:
Suzann Smolarek is part of Rubenstein & Ziff, Inc/The Quiltworks.  Since the 1920s, they've been a full line distributor of retail, manufacturing and industrial fabrics, specialty fabrics, wholesale quilting supplies, notions, and quilting informational books & patterns.
Which trends are you most excited about for 2013?
Latest posts by FaveQuilts
(see all)