Can it be true? Hollywood's Eternal Bachelor, Mr. George Clooney, is engaged? Shocking! Word on the street is that he put a gorgeous (and enormous) ring on his girlfriend's finger a few days ago. We'll believe the marriage buzz when we get the invitation. In the meantime, all the hype about George settling down has us fantasizing about the ring of our dreams. Here are 5 DIY ring patterns that look fabulous and don't cost a fortune.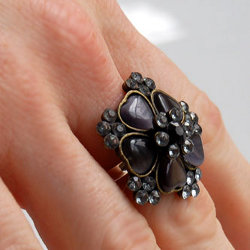 No. 1: Cocktail Ring
Say "hello" to the classy and versatile Cocktail Ring. This piece of DIY jewelry looks great dressed up or dressed down. Whether you're wearing jeans or sporting a dress jacket, this ring looks positively fetching. You can wear it to a Christmas party, and it makes a great addition to your New Year's Eve outfit, as well. Believe it or not, this handmade ring gets its sparkle from a $2 pendant the designer found at Walmart. Make a trip to your local retailer, or raid your closet and dresser for costume jewelry. This DIY ring is the perfect project for people who like to upcycle and repurpose their baubles.
No. 2: Spiral Bead Ring
Looking for something a little more modern than rhinestones and floral motifs? Check out this Spiral Bead Ring. Choose your favorite bold bead to set off the silver wire. This deep blue looks lovely, but a bright purple or dark green would be just as stunning. The delicate wire wrapping on each side of the bead gives this ring a feminine look. Make this ring for a friend whose style is a little edgy.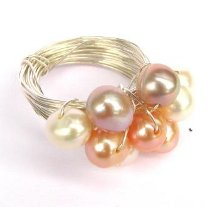 No. 3: Wire and Pearl Ring
This Wire and Pearl Ring is every vintage-lover's dream! Pearl beads allow you get that sophisticated vibe without spending money on authentic pearls. Grab your pliers and a handful of pearl beads and get to work! We love the varied colors of the beads in the photo, by the way. This is an easy tutorial for jewelry-making rookies to make. This DIY ring pattern will have you thinking summer, so wear it with your favorite sundress.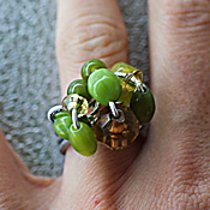 No. 4: Garden Green Bauble Ring
It's easy being green with this Garden Green Bauble Ring. In fact, you can put together this springy accessory in less than an hour. The trick to making this DIY ring one-of-a-kind is mixing up the size, style, and texture of your beads. Try to use several larger beads as well as small ones, and feel free to incorporate faceted beads, seed beads, glass beads, and more. Whatever catches your eye is sure to catch someone else's!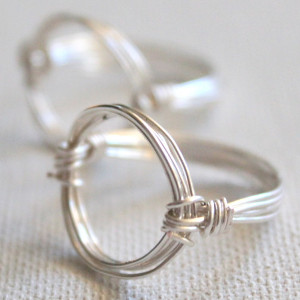 No. 5: Wire Wrapped Circle Ring
And what about those of us who like to keep things simple? There are hundreds of wire jewelry patterns out there, but it would be hard to find one that is simpler and more elegant than this Wire Wrapped Circle Ring. Classic shapes make for classy jewelry. If you want to add a dash of color to this DIY accessory, watch the video tutorial to see  how to add pretty little seed beads to your ring.
What would your dream engagement ring look like?
Latest posts by AllFreeChristmasCrafts
(see all)