Print This Post
Many people enjoy drinking a nice, cold beverage to cool down in this 100 degree weather. But after drinking your daily pick-me-up beverage, like Snapple or Diet Pepsi, don't throw the can away. Try to upcycle your empty plastic and glass bottles. You can reduce, reuse and recycle these plastic and glass containers by making recycled crafts out of them. And since it's only a few more months until December 1, you can get an early start on your presents and house decorations. Make ornaments, trees, garlands and jewelry out of your recyclable materials. You can create something useful and special for your home, and you get to help the environment.
Go green with home decor this Christmas. These Plastic Bottle Bottom Ornaments are so easy to make. You just need one empty plastic bottle per ornament and some bright colored paint. These simple (and free!) ornaments will definitely spice up your tree.
Plastic bottles aren't the only recyclable materials you can use for crafting. Get creative with these flashy green ornaments, made out of toilet paper rolls. Try it out with the whole family!
You can also make a cute star ornament out of cardboard, either from a toilet paper roll or  a paper towel roll. The little ones will for sure enjoy making this shiny, bright ornament.
If you are in the mood to try a more advanced craft, then these Greenhouse Christmas Ornaments are for you. They are eco-friendly and are truly unique Christmas ornaments.
Ornaments are not the only craft you can make with recyclable materials. Doilies are fun to play around with for various holidays, too, including Christmas. Try decorating your home with this stylish Doily Snowflake Garland. It's so simple to make, and you can help out the environment by upcycling.
Save even more plastic bottles to create this adorable homemade Christmas craft. This tabletop tree craft is also fun to make with your kids. Teach them how to be eco-friendly!
Another easy green craft to make with your family is an Envelope Gift Bag. This is a fun craft to create when you have run out of store-bought brown bags.
Give away these Christmas Candy Cans as gifts this year.  You'll only spend a few bucks, and you'll be able to treat your friends and family to a cute, homemade gift!
You can spice up your jewelry this holiday season with environmentally-friendly crafts. You can even make unique Pepsi Can Earrings for the Fourth of July. Show off your American pride all year long with upcycling soda cans!
If you are looking for outdoor decorations for Christmas this year you can light up your porch with a Faux Lighted Wine Bottle. This is definitely one of the more advanced crafts you can do with recyclables, but you have plenty of time to complete this project!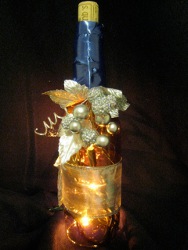 Looking to make a fun, sustainable decoration? Make an adorable, eco-friendly craft out of baby food jars, and you can display this project all-year long in your home. You'll need a lot of materials for this project besides baby food jars — namely wood, ribbons and assorted Christmas decorations. Spend time creating this pretty craft; your hard work and effort will definitely shine through!
What's your favorite eco-friendly craft to create?
AllFreeChristmasCrafts.com is a website dedicated to the best free Christmas crafts, tutorials, tips and articles on Christmas. AllFreeChristmasCrafts finds and delivers the best Christmas crafts from all over the web, from Christmas ornament crafts to Christmas craft for kids. We want you to have the Christmas of your dreams.
Latest posts by AllFreeChristmasCrafts (see all)
Print This Post