Groovy. Radical. Totally tubular. There are countless ways you can try to describe the pure awesomeness that is tie dye, but the best way to appreciate this classic summer craft is to jump right in and start making your own! Once you learn a few of the basic tie dye techniques, you can create any kind of tee you can imagine. Tie dye is a favorite of the AllFreeKidsCrafts editors, and while we could give you a whole list of the coolest tie dye designs on the planet, we decided to narrow it down to just a few. Trust us, it was hard to pick just 6 for you to try.
Ready to wear your love of tie dye on your sleeve? Browse our favorite tie dye ideas, and make sure you scroll all the way down for our giveaway! It might just give you extra inspiration for these tie dye designs…
Tie Dye Heart Shirt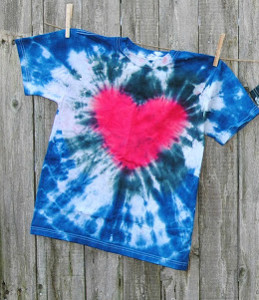 Do you take your love for tie dye as seriously as we do? Then this is the tie dye T-shirt for you. The Tie Dye Heart Shirt is the tie dye design our readers love the most, and it's easy to see why. This tee is too cute to ignore!
Carousel Folding Tie Dye Design
I love the trendy color-block look of this Carousel Folding Tie Dye Design from I Love to Create! Plus, it's really easy to make, so this tie dye project is definitely kid-approved.
Double Rainbow Dazzle Top
If you're anything like me, you have a hard time picking 2 or 3 colors to use on your tie dye creations. That's exactly why I love the Double Rainbow Dazzle Top! This tie dye design looks better with a multitude of hues, so feel free to unleash your love of color.
Drip Drop Tie Dye Design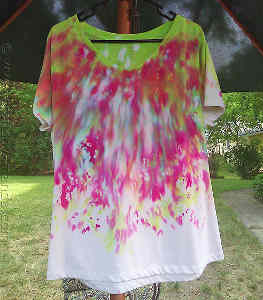 So the Drip Drop Tie Dye Design might not be tie dye in the traditional twist-and-band sense of the word, but it's still pretty cool. I love the fact that there's absolutely no wrong way to make this tie dye tee! This tie dye design definitely wins the award for being the most kid-friendly.
Captain America Tie Dye Tee
Show off your nerdy side with this Captain America Tie Dye Tee! Guys will totally love this tie dye design, but that doesn't mean ladies can't sport this tee as well.
Summer Twist T-Shirt
You can't go wrong with the summer camp classics, which is why this tee is my favorite on this whole list. The Summer Twist T-Shirt is the perfect, tried-and-true symbol of summer!
BONUS! Tie Dye Accessories and Tie Dye Home Decor
You didn't think we were done talking about tie dye, did you? Don't limit yourself to T-shirts this summer. Go ahead; tie dye everything in sight!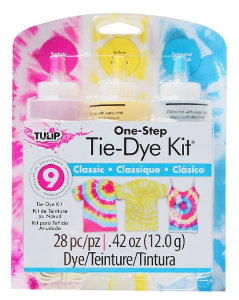 Ready to dive into these awesome tie-dye ideas? You need a One Step Tie-Dye Kit from TULIP! The One-Step Tie-Dye Kit provides kids with everything they need to create their own tie dye masterpieces: 3 squeeze bottles, gloves, rubber bands, and a great list of project ideas and inspiration. Grab your T-shirts, and enter to win today! Contest ends June 16th, 2014, at 11:59:59 p.m. Eastern Time.
 Which one of these tie dye designs is your favorite?
Latest posts by AllFreeKidsCrafts
(see all)