It's the most wonderful time of the year (and no, I don't mean Christmas)! It is award show season, and it all culminates with the Oscars. I know I cannot be the only one anticipating this Sunday's airing of the 86th Academy Awards. The star-studded red-carpets, the glamorous presenters, the fabulous dresses, the exquisite jewelry pieces, what is there not to love about this magical, sparkly award show?
Have you kept up with this year's list of nominees? I still have a few of the Best Picture nominees to see before the big show. Need a reminder of what films are on that list of nominees? Don't fret, we have rounded-up a list of award-worthy craft ideas to go along with each Best Picture nominee. These crafts are worthy of critical acclaim on their own, but they are also a fabulous way to commemorate the best films of last year. We have several jewelry projects for you, alongside some other outstanding crafts to help you prepare for the big day. The show is soon, so get started today crafting these lovely movie-inspired projects.
Winning Crafts Ideas for the Oscars
First, we have American Hustle, a film with an all-star cast set in the 1970s. The flashy wardrobe is a big part of the ambiance of this film. Get the 1970s look with this Circle and Square Jewelry Set. If fashion isn't your thing, you can still pay homage to this contender by crafting Mod Circles Wall Art.
Next on the list is Captain Phillips, a film that follows the true story of the 2009 Maersk Alabama hijacking and rescue mission. Feel that patriotic pride from this rescue mission and craft these Salute Earrings. However, you may also just be intrigued by the in-depth look into life on a merchant mariner. In that case, this Nautical Braided Bracelet is right up your alley.
Dallas Buyers Club and Matthew McConaughey fans, you can show your support for the Lone Star state with this Manly Man Throw from our friends at Fave Crafts.
Gravity is the next film on the list. Do you enjoy the thrill and excitement of space exploration? You are sure to love these Extraterrestrial Hoop Earrings!
Next up is Her, an unconventional love story between a man and his artificial intelligence computer operating system known as Samantha. Fans of Her are going to want to protect their technology, so they will enjoy these fabulous cell phone holders from our friends at AllFreeSewing.
Nebraska is a black and white film featuring a father-son road trip. For old school cinephiles who love black and white films, you will like these recycled retro film strip earrings. If you are simply a fan of the color combination, don't fret; we still have a project for you, a stunning Black and White Beaded Bangle.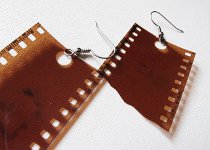 Philomena is the touching story of a woman trying to find her son who was taken away from her fifty years before. Her one memento of her son is a photograph. Keep your loved ones close to you, with this commemorative Glass Photo Pendant.
Next on the list is 12 Years a Slave, the dark and powerful true story of Solomon Northrup, a free black man conned, captured, and enslaved for twelve years. Solomon's story is known today because he wrote it down. Make your own story known with this Coptic Stitch Bookbinding Tutorial or this tutorial for how to make your own hardcover journal from AllFreePaperCrafts.
Last, but not least, we have Wolf on Wall Street. Fans of the 80s will love these stylish Triple Triangle Leather Earrings. You don't need a lot of money, these budget-friendly earrings will still inspire envy.
Plus, we have a special bonus project for Frozen and animated film fans:


There are plenty more winning craft ideas where those came from. Check out AllFreeJewelryMaking, FaveCrafts, AllFreeSewing, AllFreePaperCrafts, and all of our sister sites for more buzz-worthy jewelry projects, sewing patterns, holiday crafts, and more!
Which film do you think should win Best Picture this year?
Latest posts by AllFreeJewelryMaking
(see all)