Looking for an easy summer sewing project? Nine patch quilts are perfect because they're so quick to make. What's a disappearing nine patch quilt, though?
A disappearing nine patch quilt is a simple rift on the traditional nine patch quilt. Each square quilt block is so unique that you can't immediately tell where the blocks come together.
Take a look at our favorite 15 Disappearing Nine Patch Quilts for Summer. We admit most of them are disappearing, but we picked a few traditional nine patch quilts for old times' sake, too.
If you're feeling extra inspired, you can find more free quilt patterns in this article, 20 Free Nine Patch Quilt Patterns + Other Nine Patch Designs.
Link Love: Disappearing Nine Patch Quilt Ideas
The following bloggers have a real knack for nine patch quilt patterns. You'll love their free tutorials because they're thorough and easy to understand. We like what you've done here, ladies!
1. Pretty in Pink Disappearing Nine Patch Quilt by Cathy
2. Cheery Cherry Blossom Disappearing Nine Patch Quilt by Suzan
3. Preppy Pastel Disappearing Nine Patch Quilt by Blenda
4. Wonky Disappearing Nine Patch Quilt by Elizabeth
5. Summer Lovin' Disappearing Nine Patch Quilt by Sharon
 Easy Disappearing Nine Patch Quilts
These nine patch quilts are a piece of cake to make. We think that these quilts would be great at the beach, a summer picnic, or a concert in the park. Sew at night time for a relaxing and fun evening activity.
7. Carrie's Checkerboard Quilt
8. Strawberry Fields Forever Lap Quilt
10. Simply Disappearing Baby Quilt
Just for Kicks: Traditional Nine Patch Quilts
These traditional nine patch quilts are absolutely darling. They require a little less time than a disappearing nine patch quilt, and you can even pick a cute theme. We love the under-the-sea motif right now. It's utterly adorable!
11. Really Simple 9 Patch Quilt
12. Rainbow Squares I Spy Quilt
13. Home Sweet Home Nine Patch Throw
15. Brady Bunch Inspired Nine Patch Block
FREE BOOK GIVEAWAY!!!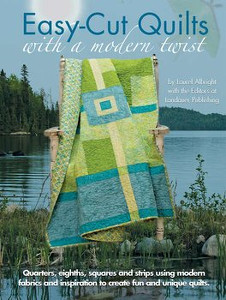 Enter for the chance to win this awesome Easy-Cut Quilts with a Modern Twist by Laundaur Publishing. This popular quilting book will teach you how to design, layout, and create beautifully composed quilts. This book is perfect to read over in the hammock this summer or on your lawn-chair outside. Click here to enter the contest. The deadline to enter is July 1st at 11:59:59 p.m. Eastern Time.
What Do You Prefer: Disappearing Nine Patch Quilts or Traditional Nine Patch Quilts? Comment Below!
Latest posts by FaveQuilts
(see all)